Oh, President Obama. He just doesn't know when to make a measured statement on a touchy subject and then leave it. No, he has to ramble on and on, and somehow include taking a swipe at the military and police.
He just did again this morning, this time in China, of all places.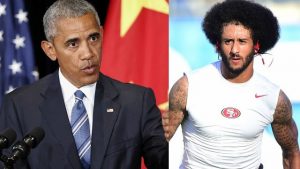 When asked about the continuing saga of quarterback Colin Kaepernick's snit with the American flag and the police, Obama said,
"He's following his constitutional right to make a statement. I think there's a long history of sports figures doing so. I don't doubt his sincerity. I think he cares about some real, legitimate issues that have to be talked about. And if nothing else, he's generated some conversation around some topics that need to be talked about it."
Fair enough. Actually, I think Obama made some good points within the repressive nation of China about Americans' constitutional right to make political statements. And Kaepernik has certainly generated conversation; our American credo proclaims the more speech, the better. It's good that the Chinese hear this.
But then he had to go and take a shot at police and the military:
As a general matter when it comes to the flag and the national anthem and the meaning that it holds for our men and women in uniform and those who fought for us, that is a tough thing for them to get past, to then hear what his deeper concerns are,"
Yes, those knuckle-draggers in the military and in police departments are too dense to possibly explore Kaepernick's protests in a thoughtful manner.
Obama just can't help himself, can he. His animosity towards police and the military, grounded in his Leftist worldview, has a way of leaking out at the most inopportune times. It's no wonder that police departments across the nation mistrust him. He may try to mend the fences, but that horse has already left the barn, and it's too late in this administration for Obama to heal the rift to save his legacy.
And then he goes to China and blabs about how the military and police are too obtuse "get past" their alleged prejudices to "hear. . . deeper concerns." Way to go, Mr. President. You're just making it more difficult for the next President to heal America's racial wounds.
We conservatives tend to pride ourselves on being voices of common sense, restraint, and adherence to law. Yet there are those among us who just need to…
This weekend marked the 70th anniversary of V-J Day, the day that Japan surrendered to the Allies in 1945, thus bringing to an end the most massive…