On the eve of the Inauguration, Mexico made a very interesting move.
Joaquín Guzmán Loera, the notorious drug lord known as El Chapo, who twice slipped out of high-security Mexican prisons and into criminal legend, was being extradited to the United States on Thursday night, officials said, drawing to a close a decades-long effort to successfully prosecute the head of one of the world's largest narcotics organizations.
Guzman, on the run for over 15 years, faces 6 separate indictments across the U.S., including Miami, California, New York, and Texas. Up until just a year ago, El Chapo, with his network and money, was a master at evading capture or making spectacular escapes. Including his most notorious one that served as a major embarrassment to Mexico's President Enrique Peña Nieto. 
He was sent to the Altiplano maximum prison in Almoloya de Juárez. That was where Mr. Guzmán pulled off his most spectacular escape. He stepped into a shower in his cell in what was supposed to be the most secure wing of Mexico's most secure prison.
No matter what anyone says, nor the celebrities fawning over him (yes, I'm looking at you Sean Penn), the guy was not a nice dude.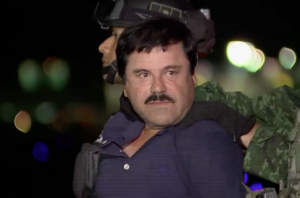 Supposedly this extradition is a "gift."
A Mexican official told The Washington Post that the Thursday evening transfer, on the last full day of the Obama administration, was meant as a "farewell gift" to Obama and not as an overture to President-elect Donald Trump, who takes office Friday.
Oh really? This is an attempt to shore up Obama's so-called legacy? I don't think so. I think that Mexico is expecting something in return from President-Elect Trump.