This Sunday brings one of the biggest — no make the biggest — day in the professional sports calendar: the Super Bowl. This game has historic significance, for not only is it the 50th anniversary of the football spectacular, but fans are also questioning whether or not this will be legendary Broncos quarterback Peyton Manning's final football appearance.
And, on cue, here come the scolds.
Tom Krattenmaker, a writer specializing in religious life at USA Today, asked, "Is it immoral to watch the Super Bowl?"
Not for the players to play it. Not for the National Football League to maintain a gigantic business based upon a dangerous sport, fraught with concussions, traumatic brain injuries, and chronic traumatic encephalopathy (CTE). But immoral for the average football fan to relax in a sofa, open a beer and bag of Doritos, and cheer on their preferred team.
Krattenmaker points out how fewer parents are letting their sons play football, due to the dire reports of head injury. I didn't raise sons, so I had no dog in that hunt, but I'm changing my mind on the issue. My brother played football as a child. I hope my preschool-aged grandson does not.
Witness some of these hits taken by what appears to be high school football players.
There's little doubt remaining that football, particularly professional football, can be deadly. In 2014 the American Academy of Neurology reported that football helmets in current use do little to protect players. Add to that the increasing size of pro football players over the years, and you have a recipe for CTE.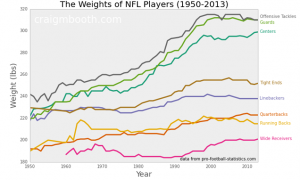 But where does this stop? Should we be shamed for watching any sport that could cause massive injury? What about boxing? Muhammad Ali, possibly the greatest boxer to enter the ring, has suffered from Parkinson's Disease for decades, due to the blows he took to the head.
Why can't Americans just let their boys embrace their masculinity? Feminists, abetted by the eager media, give us stories of sex-crazed college boys raping innocent freshman girls,…