We took our first family trip in almost 6 years last month.  This is no small feat, because the last time we took a family vacation, my husband and I only had two children.  Now we have four.  We flew over our kids' school spring break to visit my brother (an Army major currently working at the Pentagon) and his family in Washington, D.C.
I knew this trip would be particularly significant to my daughter.  She is our oldest child (ten years old), and I knew that this would be our opportunity to really inculcate her with a respect for American history on a scale that simply isn't possible where we live (in the greater Puget Sound area of Washington state).  When you live out west, there are very few things that tie back to the founding of our country.  We have "old" things that have historical meaning, but Washington didn't become a state until 1889, more than a hundred years after the Declaration of Independence was signed.  Because she is our only child at the moment who is old enough and mature enough to appreciate what we wanted to show her (our three sons are 8 and a half, 4, and 13 months old, and our oldest son is on the autism spectrum), my husband and I planned for a special day out with just her, in the city, while my sister-in-law graciously watched her brothers for us.
While she was thrilled to finally see landmarks like the Washington Monument and the Lincoln Memorial up close (she is a Civil War history buff and Lincoln is her favorite president), we wanted her to see the famous war memorials that are also on the National Mall.  We spent quite a lot of time at the World War II Memorial, taking in details and talking about the size and scope of the war.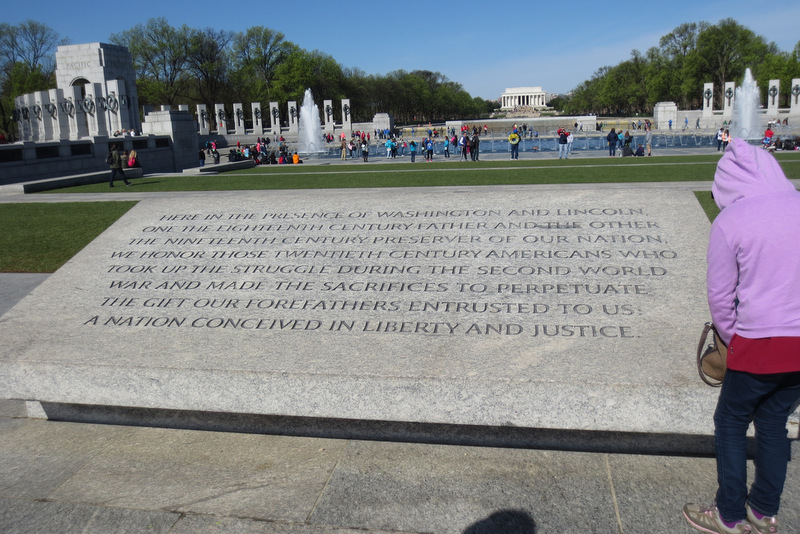 This was my husband's and my first visit to this memorial as well (it had not been built when we last visited D.C.), and it awed us.  Seeing the memorial in real life is nothing like seeing pictures of it.  And then we came to the Freedom Wall.