Hillary Clinton, in her ongoing attempt to gain a corner on social media, joined Instagram today.
And this was her very first post.
Hillary is on Instagram! Follow along for a behind-the-scenes look at the campaign: http://t.co/N09gfgmFmN pic.twitter.com/IeabYmyWNh

— Hillary Clinton (@HillaryClinton) June 10, 2015
This inspired instant mockery.
She's should stay away from blue dresses MT @HillaryClinton: Hillary is on Instagram! pic.twitter.com/FftWO2iVxU

— el ¡Soopèr! ن (@SooperMexican) June 10, 2015
And a sort of resigned disgust from fans.
https://twitter.com/robinhardwick/status/608684872454963200
Srsly? 1st female pres candidate's 1st instgrm post is of clothes? #facepalm CNN: Clinton's first Instagram post http://t.co/0tj35TdN43

— imogen taylor (@irt135) June 10, 2015

You know what Hillary's photo reminds me of?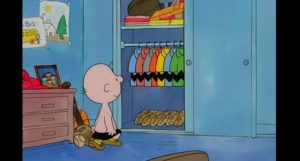 So glad to know that Hillary has the same fashion sense as Charlie Brown.
Vanity Fair revealed the cover of its July 2015 issue today, revealing the newly feminine Bruce Jenner, who has decided to now be called "Caitlyn." There's even…