This morning, before 8:00 a.m. EDT, President Donald J. Trump sent out a tweet regarding the latest charge against him as spread by D.C. Deep State rumor mill. As reported by Reuters.com and ABC News, Special Counsel Robert Mueller is investigating President Trump for Obstruction of Justice.
In response to:
Oof, right?
Let's go to the videotape:
From the Reuters article:
The obstruction of justice investigation into Trump began days after Comey was fired on May 9, according to people familiar with the matter, the Washington Post said.

Dan Coats, the director of national intelligence, Mike Rogers, the head of the National Security Agency, and Richard Ledgett, the former deputy director at the NSA, had agreed to be interviewed by Mueller's investigators as early as this week, the Post said. It cited five people briefed on the requests who spoke on condition of anonymity.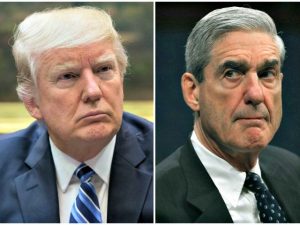 Okay so, Trump obstructed justice, allegedly, by firing James Comey to stop the investigation into Trump colluding with Russia or Russian interfering in the 2016 Presidential Election, right? No, um, that cannot be right. The wheels of the machinery of the FBI keep turning no matter who is Director. The acting FBI Director Andrew G. McCabe testified to this on May 11, 2017. The Intercept reported:
Contrary to reporting in the New York Times and Washington Post that Comey's firing had followed a request from him for more resources to work on the Russia investigation, McCabe said that the FBI had what it needed, and that its work would continue unimpeded. He did not say specifically whether or not the FBI had asked for more prosecutors.
The FBI had "what it needed" and "its work would continue unimpeded". That's pretty clear.
Now, I do not own a tin foil hat. I have not seen black helicopters fly around my house (Lifestar, yes). I do not believe in conspiracies. I do, however, believe in entrenched interests protecting their own.