She's a doll! This is twenty-three year old Katherine Webb who is a former Miss Alabama and the girlfriend of Alabama's quarterback, A.J. McCarron. Katherine Webb is also the real star of last night's Alabama-Notre Dame BCS National Championship game. Call it one of those quirky fan moments that happen sometimes in televised games. Last night ESPN found Katherine Webb and her parents in the stands, announcing it on air; and making a few choice editorial comments about her looks. She was on air just a very short time but it was enough time to get her thousands of new Twitter followers. While her boyfriend, quarterback AJ McCarron, was playing on the field, she surpassed him in Twitter fans. Even that bum, Lebron James, started following her on Twitter, which is @_KatherineWebb in case you want to follow her too. Now, she has more than 150,000 followers and counting while AJ McCarron has about 107k followers.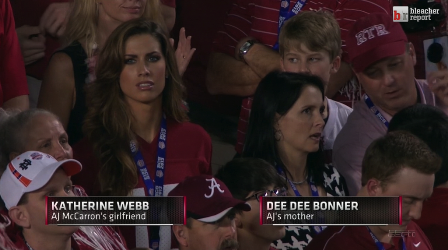 Photo of Katherine Webb

By the way, Katherine Webb also appears to live rent free in Brent Musburger's head, too. Here's the video of his comments that has everyone in a tizzy this morning. Awkward and uncomfortable, yes, but at least he called her beautiful. There are worse words that women are being called these days. #RTR!



Brent Musburger comments on Katherine Webb

UPDATE – Apparently, ESPN has apologized for Brent Musburger noticing on air how attractive Katherine Webb is. But according to Hot Air, a lot of people noticed the same thing.