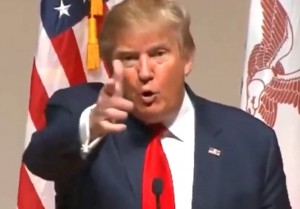 Another day of campaigning for President of the United States will soon come to a close. Its been a long day of babies kissed, hands shaken, speeches galore, and sound bites. No Presidential campaign is ever complete without sound bites…or the "WTH Did Trump Say THIS Time?" moments.
Here's his latest from today's campaign trail via a rally at Dordt College; and like most everything else he's said…this one really shouldn't come with a laugh track.
Correcting: "I could stand in the middle of 5th Avenue and shoot somebody and I wouldn't lose voters." — Donald J. Trump

— Jeff Simon (@jjsimonCNN) January 23, 2016
Yes, he really really did say that.
Oh its "like incredible" alright! What is incredible is that a man running for the highest office of the land actually SAID that. What is incredible to me is that people there laughed when he said that. What is incredible to me is that far to many will give Donald a pass because you know, he's just being Donald. Ummm NO.