The world remained focused on the horrendous terror attack in Manchester today. Meanwhile, Fox News quietly retracted their story about the shooting death of DNC staffer Seth Rich. Fox had dabbled in a conspiracy theory that Rich had shared information with WikiLeaks, and his death was in retribution.
Now Fox News has retracted that reporting. Here's their statement:
On May 16, a story was posted on the Fox News website on the investigation into the 2016 murder of DNC Staffer Seth Rich. The article was not initially subjected to the high degree of editorial scrutiny we require for all our reporting. Upon appropriate review, the article was found not to meet those standards and has since been removed.

We will continue to investigate this story and will provide updates as warranted.
But Sean Hannity is not pulling back his horns on promoting this conspiracy. No, he's just digging in. On his syndicated radio program on Tuesday, Hannity ripped into his critics, saying that, unlike his network, "I retracted nothing."
Instead, Hannity is relying on the statements of an internet character who goes by the name of Kim Dotcom.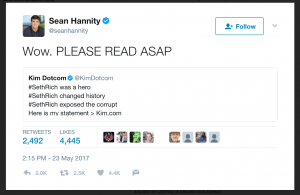 And this:
So who is Kim Dotcom?