Ted Cruz has earned endorsements from Texas governor Greg Abbott and from conservative intellectual icon Dr. Thomas Sowell, among others.
Marco Rubio has won the biggest number endorsements among the remaining Republican candidates.
Donald Trump is supported by . . . David Duke, former KKK grand wizard and current white nationalist. Duke told an audience Wednesday night on the David Duke Radio Program that "voting against Donald Trump at this point, is really treason to your heritage."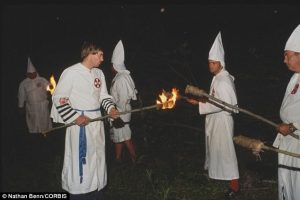 Nice.
He's not the only racist to support Trump. A white supremacist PAC is issuing a robocall campaign in Vermont and Minnesota. The founder of the American National Super PAC, William Daniel Johnson, is advising white voters, "Don't vote for a Cuban. Vote for Donald Trump."
Here's the ad.
https://youtu.be/UF7EpbRhxrI
Duke and Johnson are just additions to the long conga line of white supremacists who support Donald Trump.
It's frightening that these are the type of citizens attracted to this megalomaniac. Sadly, most of the diehard Trump supporters won't care. They're like coked-up Charlie Sheens, not concerned about the Constitution or the moral compass of the nation. They're more concerned about winning, and making sure that someone is punished for their 'anger' — like the Republican party. Or people who don't look like them, or have Latino surnames.
It shouldn't really be a shocker, though. In his Nevada victory speech, Donald Trump told his supporters "I love the poorly educated," many of whom no doubt subscribe to white nationalism.
Donald Trump in his Nevada victory speech: "I love the poorly educated." Way to go America… pic.twitter.com/AyUAJJHH17

— Rob Tornoe (@RobTornoe) February 24, 2016
Yep. Way to go, America. Way to go.