It may have not been a good day for President Trump after the GOP health care bill flamed out. But he ended it in magnificent fashion: by honoring 25 Medal of Honor recipients at the White House.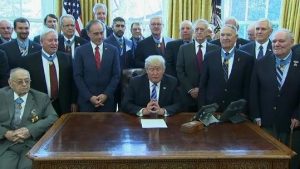 National Medal of Honor Day was first observed in 1991, but quickly fell off the radar. Today the President brought it out of mothballs.
The 25 heroes gathered with the president in the Oval Office, and he honored them with these words:
"Each of you has risen above and beyond the call of duty in defense of our country, our people, and our flag. You have poured out your hearts, your sweat, and your tears like few others, and your blood — most importantly your blood — for the United States of America. You are the soul of our nation, and a grateful republic salutes you."
He also joked that "they are much braver than I am."
Secretary of Defense and former Marine general James Mattis was also present while the men were honored. First Daughter Ivanka also gave a shout-out to the MOH recipients.
Donald Trump has been bumbling his way through these early days of his presidency, and today he hit a particularly rough patch in Congress. But it can't be denied that he truly loves the military, and relishes being Commander-in-Chief. He ended his terrible, horrible, no good, very bad day in the company of heroes. And that's a splendid way to end the day.