We all need some more of Meghan McCain's brilliant political wisdom in our lives, and in case you were feeling empty without it, have no fear. Meggie Mac has decided that she wants to have her own reality show, and so what did she do? She had Daddy buy one for her! That's right, coming soon to a television channel you've never heard of before is "Raising McCain", what Meggie Mac describes a mix of "Jackass" and "Meet the Press". No, really.
Meghan McCain is joining the ranks of reality TV stars. The daughter of Arizona senator John McCain will star in and executive-produce 'Raising McCain,' a new docu-talk series that will be part of the initial programming of the new Pivot cable channel, set to debut on Aug. 1.

"Raising McCain" will follow McCain, 28, as she interviews "experts, regular people and members of her generation, exploring the most important and unusual questions of the day, framed by Meghan's experiences in her personal life." The network will air 10 half-hour episodes of the show, which McCain recently described as "'Meet the Press' meets 'Jackass.'"
Isn't this great?? Now every week we can revel in Meggie Mac's brilliance, as she tries to understand difficult concepts like "blue bloods", talk about how much she loves sex, how she is a COOL Republican (unlike old crusty white men… like, uh, her dad?), complains about being called a RINO. Doesn't that sound riveting??
Meanwhile, she's already lashing out at people making fun of her. Because she's tough like that, y'all.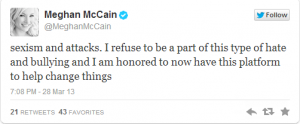 What is hurting poor Meggie Mac's feelings? This vicious, vicious set of photos posted by the Daily Caller… using a picture that she, erm, posted herself.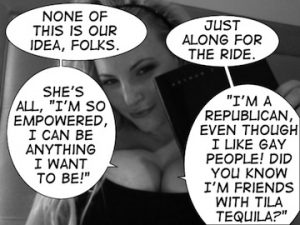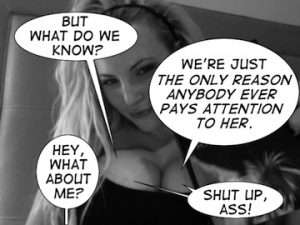 Looks like Meggie Mac's show will be really entertaining, considering she's apparently extremely sensitive to any criticism whatsoever and has no sense of humor. But hey, her show could still be successful. All she has to do is make sure to keep those boobs on display and her mouth shut, and she'll be fine.