These days an income of $497,911 is a pretty good deal right? A family of four in New York City knows it is! But there's just one teeny tiny problem with this picture. You see, that same family of four has a very unique living situation.
As of July 2014, the family paid an income-based ceiling rent of $1,574 a month.
Guess what? The 3-bedroom apartment that they live in is PUBLIC HOUSING. Yes, you read that correctly. As the Office of the Inspector General found out, that family and 25,000+ others are considered over-income beneficiaries of our tax dollars. Moreover, the U.S. Department of Housing and Urban Development (HUD) doesn't seem to care that the family no longer needs the monetary help. You can read the entire report here.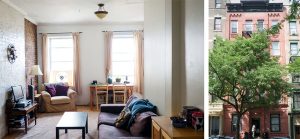 Let me point out that there are affordable apartments available all over New York City. Yes, some require income caps, but many others don't. The one pictured above is a 2 bedroom priced at $385,000 with a maximum income cap of $112,000. Does the HUD family of four fit that criteria. Likely not, unless they quit taking government assistance. Oh but wait, they have nothing to worry about. You see, HUD won't take away their tax-payer assisted income. In fact…