"Well, I've been to one World Fair, a picnic, and a rodeo, and that's the stupidest thing I ever heard come over a set of earphones." — Major T.J. "King" Kong, Dr. Strangelove (1964).
Forward that quote to 2016 and apply it to a recorded commentary by conservative icon Phyllis Schlafly of the Eagle Forum, made on February 29 and just discovered by Lachlan Markay of the Washington Free Beacon and the Heritage Foundation.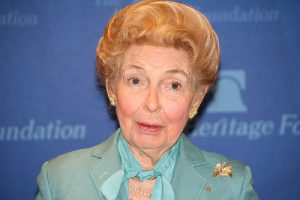 You see, Mrs. Schlafly wants to ban foreign players from Major League Baseball. She says they're taking jobs from Americans.
Phyllis Schlafly wants to ban foreigners from Major League Baseball because they're taking Americans' jobs https://t.co/EwMhIzGJLV

— Lachlan Markay (@lachlan) March 11, 2016
She said, with great emphasis on "our youth:"
The best baseball players today are American-born. All six of the six recipients of the top awards this past season are native born American. But more than a quarter of Major League Baseball players today are foreign-born, with whom our youth are less likely to identify. Some of these players cannot speak English, and they did not rise through the ranks of Little League. These foreign-born players enter on visas and take positions that should have gone to American players. Fewer than 4% of the Baseball Hall of Fame is foreign-born, yet 27% of today's players are.

This foreign influx into our National Pastime may help explain why our youth is abandoning baseball. Youth who play baseball have declined by more than 40% since 2000, and some communities where baseball was once booming now struggle to fill teams. Television ratings for World Series games are less than half what they were three decades ago.

Baseball owners are doing the same thing that big corporations do – bring in foreign labor to take jobs that should go to Americans. American baseball players are better, as the awards and Hall of Fame prove, but perhaps baseball owners think that foreign players are cheaper and easier to control.
Oh, dear Phyllis. Bless your heart.
What baseball owners want more than anything is to build a winning team, not build the cheapest team. Their stands are filled by fans who want to watch winners, and if it means those winners are from South or Central America, then they'll do their darnedest to acquire them.