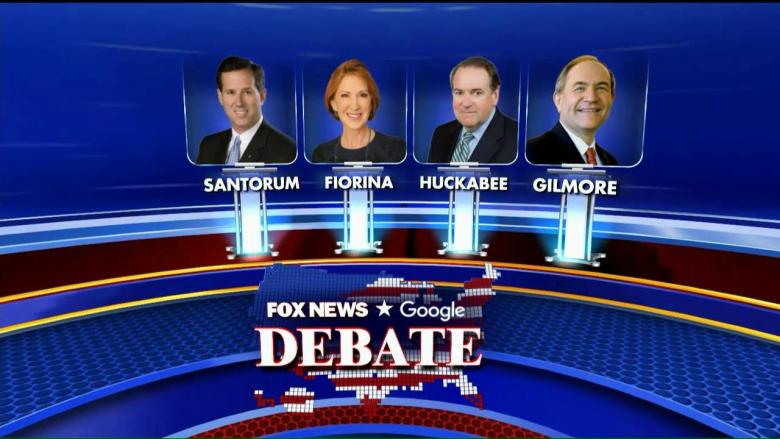 Fox News and Google sponsored the final early debate prior to the Iowa Caucus in the 2016 Presidential Race. Martha MacCallum and Bill Hemmer moderated the undercard with lightweight punchers/candidates former Governor Mike Huckabee, former Senator Rick Santorum, former Governor Jim Gilmore and former Hewlett Packard CEO Carly Fiorina. Jim Gilmore? Who knew Jim Gilmore was still in the race. The debate was held at the Iowa Events Center in Des Moines.
Here is the full debate:
https://www.youtube.com/watch?v=v2JyGgHkrvI
The first question went to Huckabee who gave his standard "standing on the factory floor" answer. And, Rick Santorum was hysterical and screaming from the get go. Methinks he needs to cut down on the Red Bull. No matter what his answer is, it is high pitched and incoherent. Caliph, Caliphate, delegitimize?.. I am thinking maybe Santorum needs a Xanax.