He may be The Boss, and Born in the USA, but he's still a flaming liberal who just can't seem to tamp his leftist politics down, even for one evening. During last night's HBO-streamed Concert for Valor on our National Mall, honoring our veterans on Veterans Day, Bruce Springsteen sparked controversy when he included Creedence Clearwater Revival's Fortunate Son, seen by many as anti-war, in his musical lineup:
https://www.youtube.com/watch?v=YI43-_HdOB0
Did you catch that? The disconcerting lyric was found in the third chorus, when Springsteen sang he "ain't no military son." Another video, included in a story by the Washington Post this morning, which was available as of a couple of hours ago, has since been made "private" on YouTube. Curious.
As you can imagine, the song, and those particular lyrics, didn't go over too well with some viewers.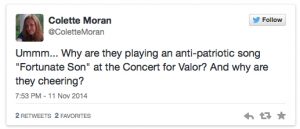 And from the Weekly Standard:
"The song, not to put too fine a point on it, is an anti-war screed, taking shots at 'the red white and blue,'" the Weekly Standard wrote. "It was a particularly terrible choice given that Fortunate Son is, moreover, an anti-draft song, and this concert was largely organized to honor those who volunteered to fight in Afghanistan and Iraq."
But some disagreed it was inappropriate:
Does Springsteen have the right to sing whatever he wishes in the greatest country in the world? Of course. Because our brave men and women have fought and died defending that right. But Mr. Springsteen picked the wrong venue, and the wrong time, in my humble opinion, to spout what is perceived by many as anti-war rhetoric. It was inappropriate, particularly now, when our military men and women are being sent to fight the most dangerous terrorist army the world has ever seen. Sometimes war comes to us, Mr. Springsteen, and fortunately we have the best military might in the world with which to annihilate those who start it. So, here's an idea, B.S. How about do what you do best: Sing. And leave your politics at home just this once.