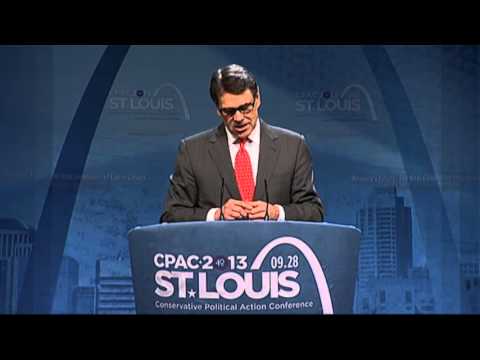 Yeah. Rick Perry rocked the house at CPAC STL 2013.



Governor Rick Perry, CPAC St. Louis, 2013

Washington is definitely broken and has been for a very long time. We also know they can't fix themselves. We need radical change and 2016 can't come soon enough for me.
_____
Great Weekend Blog Reading Links!
Teach at Pirate's Cove is blogging about "Schoolkids Won't Know What Fall Looks Like."
The Other McCain has many good blog posts up including this one by Stacy on "Sex Charges Against Two Basketball Coaches at Same Nevada Middle School."
ST at Sister Toldjah has up a post on "Fascist Democrats declare war on opposition to Obama, call GOP "terrorists".
Professor Jacobson at Legal Insurrection has up a great post today on "Harry Reid's government shutdown hostage countdown showdown."
Dan at Gay Patriot has up an interesting blog post called "So poll with highest level of presidential approval is Rasmussen??".
Have you been to Acting School with Nick Searcy? You need to go now! Don't forget to "Subscribe" because it's awesome. 🙂
Glenn Reynolds or Instapundit has many great posts at his blog hub from all over the blogosphere so go check them out! And you can watch Glenn's latest column for USA Today here.
Emily at NakedDC has a blog post up on "Don't worry, America. If the government shuts down, Congress still gets paid."
Yorkshire at The First Street Journal has up a great post "Forgive Me While I Go On A Rant About LACK Of LEADERSHIP." 🙂
LongTabSigO over at Blackfive has up a great post called "Interesting Normandy Tribute Art." Go check it out!
Max at MaxRedline has up a post up called "Fingers On The Buttons."
Jammie at Jammie Wearing Fools has up a post on "Deranged Al Gore Accuses GOP of 'Political Terrorism'" You can insert an eyeroll here.
This Ain't Hell has a number of great posts up including this one by Jonn on "EPA phony soldier/CIA agent rips off agency."
As always, Michelle Obama's Mirror has up a fun blog post called "Don't get your "beard" in the honey pot." 🙂
Donald Douglas at American Power has up this blog post on "Why Academics Hate Diana West."
Soopermexican has up this post up "Liberal Representative Mark Takano Tweets Pro-Infanticide Joke Photoshop." Go see.
Evil Blogger Lady has up a post called "Oktoberfest München 2013." Rule #5. 😉
Ed Morrissey has this post up at Hot Air "House to attach 1-year ObamaCare delay to CR? Update: Separate clean CR for Defense."
and finally, Ace at AoSHQ has a post "Because Bush Open Thread." Make sure you read the comments. 🙂
Have a terrific weekend!