Recently many were distraught that six teenage girls from Afghanistan were denied entry to the U.S. to attend an international robotics competition. No explanation was given as to why they were denied entry, but the Trump administration got all the blame for being big meanies.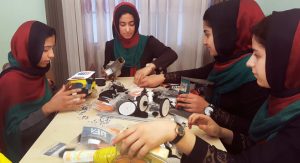 But at the urging of President Trump, the State Department and Homeland Security have reversed their decision and allowed the girls entry via "parole" status.
The president became aware of the case and asked officials at the National Security Council to see what they could do. After those officials talked to counterparts at various agencies, the Department of Homeland Security agreed to allow the girls in on a system known as "parole," which will allow them to stay in the United States for 10 days, though technically not on visas. The parole authority is used in exceptional circumstances, senior administration officials told POLITICO.

In this case, it was determined there was a significant public benefit to letting the girls in, the officials said.
Interestingly, the Obama administration has also had the opportunity to use the "parole" status, except the recipient of that nicety wasn't a sweet aspiring scientist from a Muslim majority country.
It was none other than the female Russian lawyer, Natalia Veselnitskaya, at the center of the dust up with Donald J. Trump Jr.
The Russian lawyer who penetrated Donald Trump's inner circle was initially cleared into the United States by the Justice Department under "extraordinary circumstances" before she embarked on a lobbying campaign last year that ensnared the president's eldest son, members of Congress, journalists and State Department officials, according to court and Justice Department documents and interviews.

This revelation means it was the Obama Justice Department that enabled the newest and most intriguing figure in the Russia-Trump investigation to enter the country without a visa.
The extraordinary circumstances that existed for Ms. Veselnitskaya in 2015 to enter the country were that she was representing a Russian businessman defending himself against the U.S. government in an asset forfeiture case. She was admitted to the U.S. for this purpose only. She was supposed to leave in January, 2016.
"In October the government bypassed 
the normal visa process and gave a type of extraordinary 
permission to enter the country called immigration parole," Assistant U.S. Attorney Paul Monteleoni explained to the judge during a hearing on Jan. 6, 2016.

"That's a discretionary act that the statute allows the attorney general to do in extraordinary circumstances. In this case, we 
did that so that Mr. Katsyv could testify. And we made the 
further accommodation of allowing his Russian lawyer into the 
country to assist," he added.
After that, the trail goes cold. No one seems to know how Veselnitskaya reentered or whether she remained in the U.S. leading up to her meeting with Trump Jr. on June 9, 2016. In the meeting with Trump Jr., and at several D.C. area get-togethers with other political players, Veselnitskaya lobbied against the Magnitsky Act.
Through these lobbying actions she drew complaints for not being registered as as a foreign agent lobbyists because of the work.
Sources close to the lobbying effort to rename the Magnitsky Act, conducted over the summer of 2016, said it fizzled after only a month or two. They described Veselnitskaya, who does not speak English, as a mysterious and shadowy figure. They said they were confused as to whether she had an official role in the lobbying campaign, although she was present for several meetings.

The sources also described their interactions with Veselnitskaya in the same way that Trump Jr. did. They claimed not to know who she worked for or what her motives were.
Even though Veselnitskaya was granted parole for the purpose of representing a criminal defendant, it does not appear that that is her primary legal practice. She founded a nonprofit group to restore American adoptions of Russian children, and that is what she spent her time on here in the U.S. Since she cannot even read or write English, it seems very odd that she would be a person of such importance that her criminal defendant client would have needed her in a U.S. courtroom. All of this seems very pre-textual, and just continues to be more and more revealing with each bit of thread that is unraveled from this ball of lies. Sorry, Democrats, looks like you may soon be caught up in a Russian scandal of your own.
As for now, using parole to let in Afghan teenagers attending an educational competition seems to be an appropriate use of the law. Using it to let in questionable foreign lawyers is an abuse of the law, but that is the only way Obama knows how to use it. Most of the time he made up his own.
(Visited 1 times, 1 visits today)