She has the best legs ever, dancing and singing in her shows, all over the stage in high heels. In fact, American Pop legend Tina Turner who is 73 years old, reportedly insured those very famous legs for $3.2 million dollars with her boobs insured for $790,000! Since 1995, she's been living in Switzerland with her longtime partner, German record executive Erwin Bach, and has now made the decision to give up her US Passport and her US citizenship. Apparently, Tina has passed a local civics test and interview, according to an official announcement, and will soon receive Swiss citizenship.
Heartbreak, Miss Tina!
"I'm very happy in Switzerland and I feel at home here. … I cannot imagine a better place to live," Turner told German language daily Blick.
By the way, Tina Turner's real name is Anna Mae Bullock and she was born and raised in Nutbush, Tennessee. She rose to fame as part of an iconic music duo with husband Ike Turner. Their relationship was filled with domestic violence and they divorced in 1978. She then launched her solo career and well you know the rest: from Proud Mary to Simply the Best to What's Love Got to Do With It.
She's a total old school ROCKSTAR so take notes Nicki Minaj and some of you other losers.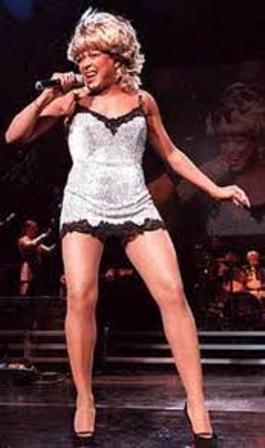 I want legs like that, damnit!
Here's Tina Turner doing "Proud Mary" and being a complete stage diva!

Tina Turner, "Proud Mary" Live, 1982
_____
Great Weekend Blog Reading Links!
Teach at Pirate's Cove is blogging about "Hooray, We're Saved From Evil People Who Unlock Their Mobile Phones". Go check it out!
Stacy at The Other McCain has up a great blog post on "#NRISummit: Scarborough 2016?" God help us. You have to go read it.
ST at Sister Toldjah has up a post on that jackass, Toure, called "Moral Bankruptcy Explained: #MSDNC's @Toure says girlfriend's abortion "saved my life'". Sickening.
Leslie Eastman at Legal Insurrection has up a terrific post on "Xena, Warrior Princess" makes great TV, but not sensible reality" Good Stuff!
Emily at NakedDC has a blog post up on "Sen. Bob Menendez was taking sexy vacations to the Dominican Republic, possibly. Allegedly". 🙂
Dana at The First Street Journal has up a really good version of "Rule 5 Blogging: Women with Weapons." 🙂 Go check out their blog!
Deebow over at Blackfive has up a blog post called "Needs Of The Service…" on the hot topic of women in combat. It's a must read.
Jammie at Jammie Wearing Fool has up a great blog post "The Fruits of Smart Diplomacy: North Korea to Target USA With Nuke Test".
Jim Hoft at Gateway Pundit is blogging about "Global Warming Downgraded to Sultry Afternoon."
This Ain't Hell has a bunch of great posts up today but I like this one by Jonn on "Another phony soldier to leave the Senate." Yep. Tom Harkin.
Michelle Obama's Mirror has up a post called "I'm gonna miss ya take memo:" It looks at that special relationship between Obama and Hillary. 🙂
Instapundit has a lot of good blog reading up at his hub including THIS one! o.O
American Power has up a blog post on "Obama's Abuse of Power." Go read.
Ed Morrissey is blogging at Hot Air on "Video: Milwaukee County sheriff's PSA on self-protection." The video is really awesome.
Michelle has up a post at Michelle Malkin on "Rotten to the Core (Part 2): Readin', Writin' and Deconstructionism." Part 2 is just as great as Part 1 was!
Neo-Neocon has up a number of good posts today and I especially like "Helping Obama."
and finally, Ace at AoSHQ has up a blog post "Interesting Article on Education, Claiming Vocabulary is the Key to IQ and Advancement." It's good.
Happy weekend!
(Visited 62 times, 62 visits today)