Taylor Swift has been in Denver, Colorado for the past week sitting in a courtroom every day. Why?
According to Swift, Mueller allegedly reached under her skirt and grabbed her ass when the two were taking a photo together during a meet-and-greet on her Red Tour in 2013. Mueller sued Swift two years later for $3 million, claiming her allegations were false. Swift is countersuing for just $1.
Think about that for a minute. David Mueller, going by the nickname Jackson, worked for 98.5 KYGO at the time. He and his girlfriend were at the concert and part of the media meet and greet. They posed with Taylor Swift for a photo. This photo.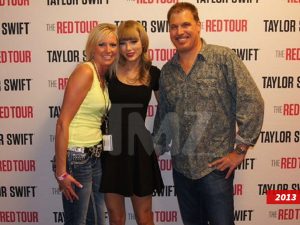 And that's when things got weird for Taylor.  Soon after, Mueller and his now ex-girlfriend Shannon Melcher were kicked out of the Pepsi Center by Swift's security team. A few days later he was fired from KYGO.
Two years later Mueller decided to sue Swift for $3 million. It's telling that her countersuit for sexual assault is only asking for ONE DOLLAR. 
Taylor Swift could've negotiated with Mueller and made this all go away. But she didn't. Instead, she's been front and center every single day of the trial. Her testimony yesterday was powerful and unambiguous as to what she experienced.
McFarland suggested Swift could've taken a break from her concert meet-and-greet if she was so shaken up by Mueller's alleged assault. (Swift previously said she was distressed by the incident but carried on with her schedule because she didn't want to upset her fans.)
Swift's reply: "Your client could have taken a normal photo with me."
Given how Taylor handled the questions from Mueller's attorney, Gabe McFarland, the trial may not be going well for Mueller.
"I have experienced every degree of an awkward first encounter," "This was not jostling," #TaylorSwift @DenverChannel

— Marc Stewart Denver7 (@MarcKMGH) August 10, 2017
"He did not touch my rib, he did not touch my arm…he grabbed my bare ass," Taylor says. https://t.co/KG2QvAT1il #taylorswifttrial

— Blair Miller (@blairmiller) August 10, 2017
When asked if she think Mueller got what he deserved, her response?
"I don't feel anything for Mr. Mueller. I don't know him," #TaylorSwift @DenverChannel

— Marc Stewart Denver7 (@MarcKMGH) August 10, 2017
When asked again about his firing, she made this statement:
"I'm not going to let you or your client make me feel in any way that this is my fault. Here we are years later, and I'm being blamed for the unfortunate events of his life that are the product of his decisions—not mine."
Something else that we should all consider regarding Mueller's lawsuit against Taylor Swift.
In a deposition, Swift reportedly said that the groping "was not an accident, it was completely intentional, and I have never been so sure of anything in my life."
Yes, Taylor Swift is famous. Yes, she's glamorous and rich. So what? Really, so what? Well gosh! She's famous so let's go ahead and treat this as a celebrity fan club festival instead of the very serious case that it is.
Meanwhile, where are the feminists? Where are all of Taylor's famous girlfriends? Where is Ke$sha? The celebrity/entertainment world was all up in arms regarding Ke$sha's trial and Taylor even donated $250K to help her recoup her losses! Has Ke$sha come out in support? Nope. Have any of the prime time celebrities and Women's March people come out in support of Taylor? Nope. Oh wait, Lena Dunham has, but then they are BFF's for some reason I cannot fathom.
Needless to say, this is a trial regarding sexual assault. This isn't about celebrity or fame. This is about a situation where a guy took advantage, stuck his hand up a woman's skirt and groped her when she was in a situation where she could do nothing about it then, other than have her security team kick him out.
Taylor Swift's celebrity status is helpful in one way and one way only in this instance. She is showing women and her young fans that no matter your status in life, you can and SHOULD fight back against sexual assault. Taylor Swift is doing the work the feminists should be doing while the feminists stay silent.
(Visited 12 times, 12 visits today)