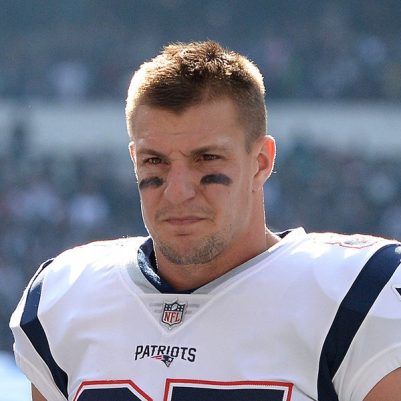 Some of us have taken a hiatus from the NFL because of the sheer idiocy as of late. It was hard to ignore the latest Sunday afternoon football shenanigans. And if you were watching the Patriots/Bills game, you most certainly saw this:
That was New England Patriots', Rob Gronkowski, doing a little more than his typical "Gronk Stomp". Gronkowski jumped on Bills cornerback Tre'Davious White after White intercepted Tom Brady and fell out of bounds. White subsequently entered concussion protocol. Gronk since apologized for the incident:
"First of all, I want to apologize to No. 27. I'm not in the business of that. It was a lot of frustration. I was just really frustrated in that moment, and it just happened naturally through emotions and frustration. I just want to apologize to Tre'Davious White. I don't really believe in the type of shots like that, but just through the frustration process, the game of football, emotions — it's just what happened."-Rob Grokowski
Pats coach, Bill Belichick, was not happy with the hit, and let Bills coach Sean McDermott know his thoughts:
"It was bull$#it"-Bill Bellichick
Was Gronk's hit dirty? Of course it was. Was it illegal and unprofessional? Absolutely. Was it racist? Some people tend to think so:
If a black player on the Cowboys did this (or publicly partied like Gronk) he'd get suspended long term. Let's see what Park Ave does… https://t.co/AGHuEmu7Kh

— Luke Russert (@LukeRussert) December 3, 2017
Racist Gronk targets helpless Tre'Davious White all because he is black. Gronk should be charged with a hate crime. There will be no justice for Tre'Davious though because he's a slave in white America's eyes https://t.co/KgtfebXMP7

— Resistance UpstateNY (@ResistTrump7) December 3, 2017
I concluded that Gronk is racist from that play.

— Freelo (@JPGarc5) December 3, 2017
Gronk is racist as hell for that.

— Mike Mcgilliam (@MMcgilliam) December 3, 2017
Gronkowski will come under serious review by the NFL over the next 24 hours to determine if he'll be eligible for the Patriots' Week 14 game against the Miami Dolphins. Gronkowski is not a a first-time offender when it comes to on-field discipline to include a fight that broke out towards the end of Super Bowl XLIX against the Seattle Seahawks and unnecessary roughness against Indianapolis Colts cornerback, Sergio Brown. Rob Gronkowski clearly was not thinking and his poor sportsmanship is indeed unacceptable but was it blatantly racist? Depends on who you ask. As if the NFL needed any more racial flames than those that they have already fanned. Stay tuned.