In support of the 2nd Amendment and the blatant attack on it by the Obama regime, firearms owners and gun advocacy groups around the country headed to gun shops, shooting ranges, and state capitals today as part of "Gun Appreciation Day." The organizers were encouraging gun-rights supporters to "send a message" to President iWonTwice two days before his second Immaculation by "lining up around the block" at gun shops, ranges and shows with a copy of the Constitution, U.S. flags and a "Hands off my Guns" signs. Here in Oregon, upwards to 3,500 gun-toting patriots participated in a rally at our capital. It was most likely, the safest place in the state today. Here's a photo a friend took of the event: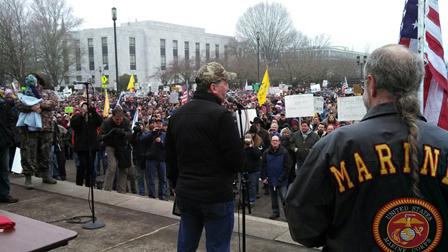 In tandem with Gun Appreciation Day, Sean Hannity had Jessie Duff, a world champion shooter, on his show last night to demonstrate several different semi-automatic rifles and pistols showing the caliber and how they fire as well. That demonstration alone, shows the jackassery of this administration's sweeping anti-gun policies. The video of Jessie's demonstration below, is an excellent primer – especially on the AR-15 and how it compares to other guns. And I LOVE that Hannity had a girl do the demonstration. Check it out!



_____
Great Weekend Blog Reading Links!
Teach at Pirate's Cove is blogging about "The Idiocy of Gun Control Explained." It's a great post!
Stacy at The Other McCain has up a great blog post on "'Arab Spring' Update: Hostages Killed in Algeria; French Fight Islamists in Mali".
Phineas at Sister Toldjah has up a post on "High-ranking CBS staffer calls for destruction of Republican party". Lovely.
Professor Jacobson at Legal Insurrection has up a terrific post up on Gun Appreciation Day with video and pics. Good Stuff!
Emily at NakedDC has a blog post up on "Michelle Obama gets bangs, reforms Organizing for America." Not a good look, MO.
Dana at The First Street Journal has up a really good blog post called "Just a Marine." I love this post. Go check out their blog!
B5 at Blackfive has up a video called "Palette Cleanser". We need one this weekend. 🙂
Jammie at Jammie Wearing Fool has up a great blog post "Obama's Executive Orders on Guns Fails to Stop Shooting Outside Chicago HS Basketball Game". Yeah, well we know how that goes with Obama.
Jim Hoft at Gateway Pundit has up a post about "Chair of Congressional Black Caucus Goes Off During Debate – Says Republicans Are "Evil and Mean" (Video). Sigh.
Zero at This Ain't Hell has up a post that I really like. It's "Nothing New Here – John Kerry is STILL a Traitor." Yes, yes he is.
Michelle Obama's Mirror has up a post called "Dancing with the Stars." It's great. LOL.
Instapundit has a lot of good blog reading up at his hub including THIS one! o.O
American Power has up a blog post about the "Assasination Attempt on Bulgarian Opposition Leader (VIDEO)" — go check it out!
Jeff at Protein Wisdom has up a really interesting post called "NY State Assemblyman: Dem's first bill called for confiscation of "assault weapons" and high cap mags". Good comments too!
Ed Morrissey is blogging at Hot Air on "Shocker: Americans want term limits and end to Electoral College after re-electing a bunch of incumbents."
Michelle has up a post at Michelle Malkin on "Anti-American Asians don't speak for me." It's interesting.
Neo-Neocon has up a post today asking the question "Is there progress in art?". Go check it out!
and finally, CAC at AoSHQ has up a blog post "AOSHQDD- A look at the upcoming Senate races." It's great.
So, ignore the 2nd Immaculation of Obama the Weaker, and have a happy weekend!
It's shameful really. While people in the bankrupt state – my home state – of California, are actually lining up to turn in their guns for grocery…