Sure as summer follows spring, and as garbage attracts flies, celebrities are out en masse calling for more gun control.
You may remember this emotion-laden call for restrictions on our second amendment rights that celebs made back in 2012. They called it a "demand to end gun violence," but what they really wanted was to take guns out of everyone's hands, except for, you know, their bodyguards and such.
Now, while Senate Democrats are making hay out of the Orlando shooting with their hippie-style "sit-in," celebs are jumping back on their anti-gun bandwagon.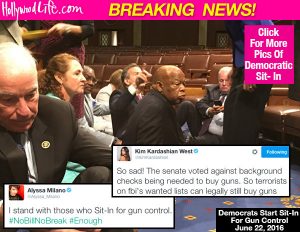 The reigning queen of publicity whore-mongering, Kim Kardashian, tweeted this comment, which revealed her complete ignorance of the difference between terror watch lists and the FBI's Most Wanted List.
So sad! The senate voted against background checks being needed to buy guns. So terrorists on fbi's wanted lists can legally still buy guns

— Kim Kardashian West (@KimKardashian) June 21, 2016
She was immediately — and deservedly — schooled.
"Wanted lists"?
Um. You should slap whichever assistant told you this. https://t.co/S3nPYyUc5T

— Jonah Goldberg (@JonahNRO) June 21, 2016
Hey @KimKardashian, The govt's terror watch list isn't the same as @FBI's most wanted. https://t.co/zlDpsFf7Zc https://t.co/ACX5RF7REj

— John R Parkinson (@jparkABC) June 21, 2016
Her pronouncements on gun control being a complete, ahem, bust, Kim went back to what she knows best:
Wait u didn't think I would forget about National Selfie Day! DUH pic.twitter.com/fL7O62kyxX

— Kim Kardashian West (@KimKardashian) June 22, 2016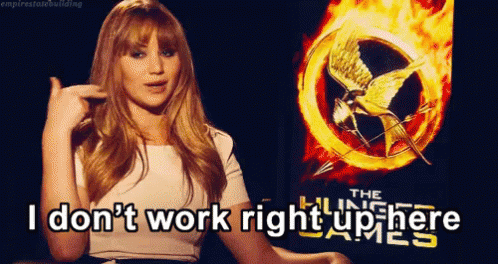 Then there was actor Danny DeVito, demanding that we ban the mean old AR-15, probably because it's the only gun he can name.
Support the Dem protest… No surrender. we need gun control together we need to ban AR15's

— Danny DeVito (@DannyDeVito) June 23, 2016
He was also schooled.
@DannyDeVito Do you know what size round an AR15 holds? Do you know how many other rifles use the EXACT SAME ROUND and are also SEMI-AUTO!

— Robert Staudenmaier (@Staudenr20USN) June 23, 2016
The Oscar for Best Performance of Stupidity in Anti-Gun Tweets, however, goes to Jason La Canfora, the NFL "insider" on CBS. The ignorance here is of epic proportions, but even though he was fully informed of the error of his ways, he didn't back down. No, Jason just dug in.
Anyone else appalled at the lack of progress regulating machine guns can text DEMAND ACTION to 644-33 and make a quick call for gun safety.

— Jason La Canfora (@JasonLaCanfora) June 22, 2016
Um, machine guns? Those weapons which have been illegal since 1986?
Yep.
Sean Davis at The Federalist challenged La Canfora.
Try to buy a machine gun, @JasonLaCanfora, and be sure to videotape your efforts so we can all see how easy it is. https://t.co/8GQI3SlleE

— Sean Davis (@seanmdav) June 22, 2016
Another poster at Twitter helpfully recommended Google.
@JasonLaCanfora maybe bad to tweet outrage over topic U understand little about? I hear Google is a pretty handy tool if you're interested.

— Kirk Jason (@IPAzRGR8) June 22, 2016
To which Canfora insisted he knows plenty about guns, thankyouverymuch.
@IPAzRGR8 I know plenty. Keep loving your military grade mass-massacre tools.

— Jason La Canfora (@JasonLaCanfora) June 22, 2016
Sean Davis repeated his challenge.
Go legally buy a machine gun this afternoon and prove to the world how stupid I am, @JasonLaCanfora. It's all upside for you. Zero downside.

— Sean Davis (@seanmdav) June 22, 2016
La Canfora's response? Well, I'm calling semi-automatic guns machine guns! So there!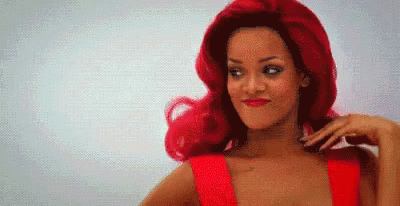 @seanmdav i'm calling semi-automatic machines machine guns. You don't get to pick my terms. Your NRA buzzwords don't apply to me

— Jason La Canfora (@JasonLaCanfora) June 22, 2016
David Burge of Iowahawk responded with a brilliant sports metaphor. Oh, snap!
.@JasonLaCanfora @seanmdav You kicked a home run with this tweet. Nothin' but net!

— David Burge (@iowahawkblog) June 22, 2016
Of course with such anti-gun jackassery lighting up Twitter, Dana Loesch had to join in, and she did so visually.
According to @JasonLaCanfora this is a machine gun. Don't you put your buzzwords on him. pic.twitter.com/BLyEUG7sDd

— Dana Loesch (@DLoesch) June 22, 2016
And this is a double-barrel super shooty machine gun. Don't you try that buzzword magic on me. pic.twitter.com/Nsv2zNmp11

— Dana Loesch (@DLoesch) June 22, 2016
Followers of Dana had fun with pictures, too.
@Dloesch here's one that features the "shoulder thing that goes up." pic.twitter.com/5j1OHQ17E8

— Robert G Evans (@drawncutlass) June 22, 2016
@DLoesch This is my flame thrower. I use it often. 🙂 pic.twitter.com/2F4Ya0FzTP

— Brian C (@BeeeCeee2020) June 22, 2016
Heh.
Three cheers for social media! It helps to expose the ignorance of celebrities who want to keep you from owning a weapon and think they have the caché to do so just because they are, you know, famous.
(Visited 16 times, 16 visits today)