Like it or not, Trump is President. And life goes on for most of us. We go to work, pay our bills, work in the yard and all the other fun things adults do. For a man named Ronald Pelias, life is a terrible thing. The adjunct professor in the theater department at the University of Louisiana Lafayette is sleepless in Lafayette. Why is this? Pelias says he lives in a "Fragmented Cruel World" and blames Trump supporters for his sleepless nights. My first thought was this has to be a joke or a parody. But no, the story is found here and the idiot published this screed or rant or organized whinefest here.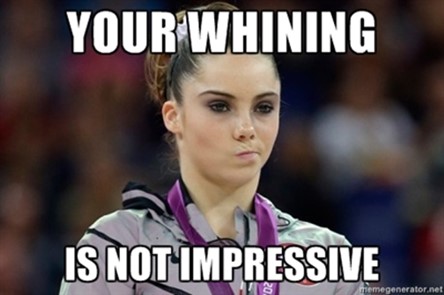 Now I get being upset your candidate lost. Really, I do, but this goes straight past sad and pathetic into delusional. First his actual published work:
I find myself struggling, wanting to find a narrative that will let me sleep, but I am unable to find any comfort in the current political landscape. I call upon a fragmentary structure in this autoethnographic essay to display the troubling thoughts and incidents that have assailed me since the election, to point toward a frightening right wing agenda, and to demonstrate why I cannot sleep. Each numbered section offers evidence that the moral core of the United States has been deeply damaged by the election of Donald Trump.
And this has what exactly to do with teaching theater? Other than "this is what Narcissism looks like, kids"?
"I can't stop wondering if each person I encounter is [a] Trump supporter. If I identify someone who I believe fits that category, I assume he or she is deeply uninformed and/or unethical," writes Pelias in Qualitative Inquiry, which provides an interdisciplinary forum on human sciences.
Really? You really let elections upset you that much? I think the problem started long before 2016.  It appears he writes from the heart, man: here is one of his fine published works. The abstract is enough to explain his thinking and many emotion driven thinking errors. So what else does this cupcake say about his scary new world?
"I am not proud of … the contempt I hold for Trump supporters," Pelias continued in the article, titled "On Not Being Able to Sleep."
So what is he doing about his issues? These are his issues after all. And the sleepless thing? Benadryl helps.
"I've been told I need to reach out to these voters and try to understand where they are coming from. I believe I do understand them and I do not want to be around them," he writes. "I do not want to live in the presence of their hate, of their unethical practices, of their ignorance. I know this is a problematic way of being, but I am unwilling to bend to what I see as their fascist ideology."
Problematic is being kind, cupcake. And the term "fascism" may more accurately be applied to Pelias.
"I do not know what is best to say or do. I do not have a narrative that will let me sleep. I live in a fragmented, cruel world, one that imploded on the day Trump was elected," he concludes.
Twitter said what?
He may live in a "Fragmented, Cruel World…" but it is one of his own making and he should not be in a teaching position.@Conservatexian https://t.co/MoDADYT2nr

— Lou Ella Howard (@ellahoward271) April 19, 2017
(Visited 7 times, 7 visits today)