Shirley Temple Black died last night (Monday, February 10, 2014) in California.  She was 85 years old.  I grew up watching Shirley Temple movies.  My all-time favorite was "Heidi."  Even now, when I eat cheese and bread, I think of how that was the food that helped Clara regain her health – plain country eating plus the crisp mountain air and the irrepressible joy of Heidi.
Shirley Temple was the ever-so-cute child star that helped to brighten the lives of people in the late 1930s and later.
 From 1935 through 1938, the curly-haired moppet billed as Shirley Temple was the top box-office draw in the nation. She saved what became 20th Century Fox studios from bankruptcy and made more than 40 movies before she turned 12.

Hollywood recognized the enchanting, dimpled scene-stealer's importance to the industry with a "special award" — a miniature Oscar — at the Academy Awards for 1934, the year she sang and danced her way into America's collective heart.

After she sang "On the Good Ship Lollipop" in "Bright Eyes," the song became a hit and the studio set up Shirley Temple Development, a department dedicated to churning out formulaic scripts that usually featured the cheerful, poised Shirley as the accidental Little Miss Fix-It who could charm any problem away.

Her most memorable performances included four films she made with Bill "Bojangles" Robinson, a black dancer 50 years her senior and a favorite costar, she later said.

They were first paired as foils for cantankerous Lionel Barrymore in 1935's "The Little Colonel," in which 7-year-old Shirley tap dances up and down the staircase, remarkably matching the veteran Robinson step for step.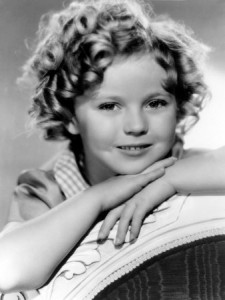 Shirley Temple will live on, not only in our memories but in our culture as well.  How many children today order a non-alcoholic Shirley Temple cocktail when eating in a restaurant?  She was one of the first women to speak up about her experience with breast cancer in 1972/1973.  And, of course, her movies will continue to entertain us.
She was a child actor who managed to get through her well-publicized childhood without the fame ruining her life.   That is supposedly attributed to her mother who kept her grounded amidst all the adulation and attention. 
Rest in peace, Shirley Temple Black.
(Visited 3 times, 3 visits today)