Holy swirling winds, Batman. The known world and the Victory Girls are torn asunder over whether or not Rush Limbaugh called the prediction of Hurricane Irma fake news. Lord help me, Jesus, what a stramash. On his show on Tuesday, Rush Limbaugh began his discussion about the hurricane with the water issue.
Rush wondered why people are buying water when they could get it from their own taps. Not after the hurricane. Before the hurricane. Tuesday, when he began this discussion, it was a full five days before the hurricane was predicted to hit Florida, if it hit Florida. This is from the Washington Post, not a big Limbaugh fan: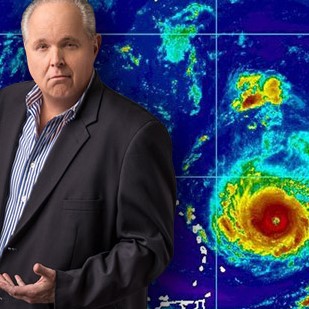 "Has anybody ever heard of the tap?" Limbaugh asked his listeners. Throughout the program, he chastised his fellow Floridians, who "in panic" had bought out all the bottled water in Palm Beach.

Digressing to lambaste "Big Water" companies he claimed had duped the public into eschewing their faucets, the host suggested various options.
See, Rush was talking about this storm this week. And, FEMA (The Federal Emergency Management Agency) agrees with Rush Limbaugh. Again, from the Washington Post article, this is the FEMA advice:
FEMA's advice:

There's a government checklist of all the things you should keep ready in your home, workplace and car: from a can opener to extra batteries. At the top of the list is water, of which you should have at least three gallons per person for three days — or twice that much in hot weather.

And you can't just fill old milk jugs from the bathtub and forget about it. FEMA says to buy commercially bottled water if at all possible. If not, you need to use food-grade water containers, thoroughly cleaned and sanitized, and replace them every six months.
That's what I do. I have a panic room. Earthquakes, tornadoes and Nor'easters. Been there, done that. I buy water and have it on hand. I do this because I am a sentient being endowed by my Creator with Common Sense.
Rush does believe that the hurricane panic by the media is, in part, to further the belief in man-made climate change, global warming or global cooling or whatever it is today. As a middle schooler might say, "whatevs". From his show transcript:
RUSH: So here's another one I didn't know that happened. The Washington Post. The reporter is Callum Borchers. Headline: "Rush Limbaugh's Dangerous Suggestion that Hurricane Irma Is Fake News." Now, any of you listening to this program 24 hours ago, did I ever say the hurricane wasn't there? Did I ever say it wasn't a big storm? Did I ever call it fake news? I didn't do any of that. I'm convinced Borchers didn't even listen. He may have read a transcript out of context from a reporting site or whatever. All I did was tell you how the world works.
All I did was remind everybody that there are people throughout levels of government that believe in climate change, it's an emotional issue, and they look at for any evidence they can to prove it and they go nuts with it — and that's exactly what's happening here. Remember, big hurricane. Algore said after his first book, after Hurricane Katrina, "We're gonna have these things all the time and they're gonna get worse and worse and worse 'cause of climate change!" We went 12 years without a single one hitting the United States. Well, now, two of them are hitting and they can barely contain themselves. They want to be right, and so they're milking this. They're milking it for all they can get out of it.
Now, I have never lived in a hurricane area. My point of view is that the industrial media complex uses hurricanes, because you can't predict tornadoes a week or ten days ahead of time. We get hours or minutes. That's why I keep ready.
My dear Floridians and Carolinians, be like Rush Limbaugh. Prepare in advance. Don't panic and stay aware. During hurricane season and every day, this is good advice.
(Visited 216 times, 216 visits today)