"Mommy, how come we can't go get pizza for my birthday? And where's daddy?"
I took the tiny form of my now-4 year-old son in my lap and stroked his soft hair. "I'm sorry, buddy. I know you're disappointed, but daddy has to work tonight."
"But how come? I wanted pizza!"
"I know you did, big man. But something really bad happened today, and daddy is a police officer, so he has to work."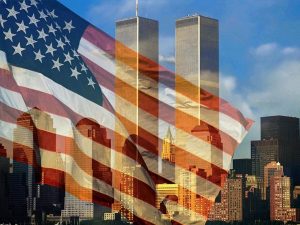 How do you explain to a little boy that the celebration you planned for his fourth birthday had to be postponed because savages flew planes into buildings, killing thousands of people? How do you explain to an innocent little boy that such evil exists in the world, and highlight it on his big day? How do you take him in your arms and explain that what was to be a celebration of his life was overshadowed by acts of unspeakable horror?
Fire.
Explosions.
Men and women jumping to their deaths from skyscrapers.
Untold courage on a doomed aircraft.
Indescribable heroism and acts of self sacrifice.
I did my best that day to explain to my little boy and his sister the horror that took place that day and why it was important for daddy to be at work, but I also didn't want the brute barbarity of al Qa'ida's attack that day to leave him scarred. I wanted him to celebrate his life. I wanted him to face life without fear and with a joy that conquers any act of evil cowardice.
I was unsuccessful.
For several birthdays after that fateful day, my son would get scared of unidentified monsters in his room right around the time his birthday would roll around again. He would ask me to help him look for them and destroy them before bedtime every night. For several years, when asked how old he was, he would reply with his age, but also add that he had the "worst birthday in the world."
I would correct him and tell him he had the best birthday in the world, because it was the day he entered this world and made it better with his presence and light, but to no avail. His joy seemed to be forever tempered by the pain thousands of families felt that day.
And then, in 2010, a good friend came back from Afghanistan. He was there for 18 months. He saw friends bleed out in his arms, and he sat with friends as they mourned their brothers. He had that look in his eyes – the look that tells you he's seen hell.
He came to visit, and he brought my son a gift: an American flag that flew over Camp Eggers in Kabul on his birthday.
I think that's when things changed for the kid. I think that's when he developed a determination in his own mind to never allow another such attack to happen on American soil again. He always had that streak of love for his country in him – probably because his parents are both military veterans – but something in him told him this is to become a family tradition, and he was going to uphold it.
Last year, when my son joined the Army Reserves, and when he graduated from Basic Combat Training, he told me he teared up at the playing of the National Anthem. "Mom, I shed a thug tear. I won't lie." And as he walked across that stage and shook hands with the training unit's leaders, I saw a strong, proud, patriotic American citizen Soldier, who would stand up and fight for his country if called into battle.
I shed a thug tear. I won't lie.
***
And now, my son, as you celebrate your 20th birthday, and leave your fears behind you, I know you will not forget that day. But nor will you allow it to darken your light and to dampen your joy for the life you have chosen and the country your love. I know you will look back on the horrors of that day with determination, instead of despair. I know you will serve your country with pride, courage, and resolve, and we will smile with the knowledge that we will be secure, knowing you and your fellow Soldiers are standing on that wall.
Happy birthday, my little one.
Shine on.
(Visited 133 times, 133 visits today)