When 9/11 happened, everything just stopped. The whole world seemed to abruptly hit pause, because we just couldn't bear to tear our eyes away from what was happening in New York, in Washington D.C, or in Pennsylvania. There were no plane flights for days. There were barely any commercials on TV. There were no football games, or baseball games to watch. We were all frozen in time. Coping. Breathing. Watching. Praying.
Eventually, we knew life would have to resume. But we all felt either hurt or broken by what had happened. How on earth could we go back to being "normal" again? The honest truth is that the "normal" that was, was never coming back. But we could be brave, each in our own way.
And when President George W. Bush walked out onto the field of Yankee Stadium to throw the ceremonial first pitch of Game 3 in the 2001 World Series, that was his way of being brave and proving that life was going to carry on. And we all watched as this man, who had vowed through a bullhorn that we were going to be heard, wore a bulletproof vest under a FDNY jacket and strode out onto the field.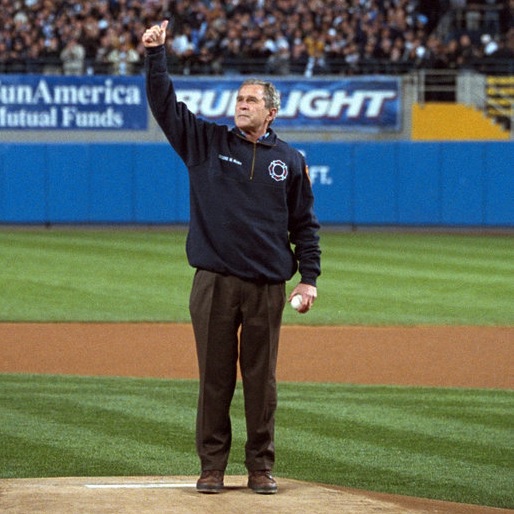 And he had fought to be there.
"There was some suggestion that maybe the best place to go would be Arizona since that's where Game 1 was being played. I rejected that out of hand. If you're going to throw out a pitch during a World Series with the Yankees at this point in history there's only one place to go – Yankee Stadium," Bush said adamantly.

Bush was tasked with throwing out the first pitch. Something normally so small, couldn't have been bigger and more symbolic.

"The agent said you'd be wearing a bulletproof vest. And I didn't say to him what I felt like saying which is, 'I got to throw the first pitch. You know?'" Bush continued.
This was October 30th. We had no idea if more attacks were coming. The security around Yankee Stadium was intense. And George W. Bush threw a perfect strike to deafening cheers.
Actor and devoted Yankees fan Billy Crystal remembered it this way:
"This is a moment. Your politics go away. Here's the president of the United States, handed this awful baton to run with and he stood up and basically said f— you." Crystal said.
There are few things more American than baseball. On that night, baseball unified us all. George W. Bush, with a single pitch, showed us that we could, even in the face of unspeakable horror, carry on.
(Visited 115 times, 119 visits today)