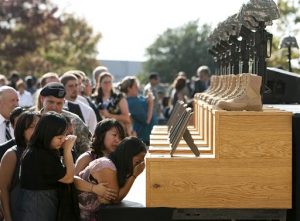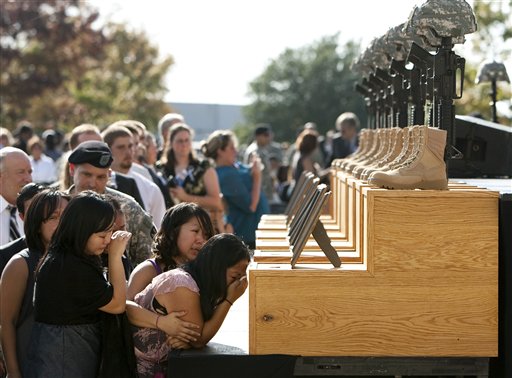 Three years ago today, there was a jihadist attack on Fort Hood perpetrated by Major Nidal Hasan. Michelle Malkin has the names of those murdered, which included one soldier's unborn baby:
1. Lt. Col. Juanita Warman, 55, Havre de Grace, Md.
2. Maj. Libardo Caraveo, 52, Woodbridge, Va.
3. Cpt. John P. Gaffaney, 54, San Diego, Calif.
4. Cpt. Russell Seager, 41, Racine, Wis.
5. Staff Sgt. Justin Decrow, 32, Plymouth, Ind.
6. Sgt. Amy Krueger, 29, Kiel, Wis.
7. Spc. Jason Hunt, 22, Tillman, Okla.
8. Spc. Frederick Greene, 29, Mountain City, Tenn.
9. PFC Aaron Nemelka, 19, West Jordan, Utah
10. PFC Michael Pearson, 22, Bolingbrook, Ill.
11. PFC Kham Xiong, 23, St. Paul, Minn.
12. Pvt. Francheska Velez, 21, Chicago, Ill. and her unborn baby
13. Michael G. Cahill, Cameron, Texas [civilian]
It still breaks my heart thinking of Pvt. Velez especially, who cried out for her baby as she lay dying.
A pregnant soldier shot during a rampage at a Texas Army post last year cried out, "My baby! My baby!" as others crawled under desks, dodged bullets that pierced walls and rushed to help their bleeding comrades, a military court heard Monday.

A soldier had just told Spc. Jonathan Sims that she was expecting a baby and was preparing to go home, when the first volley of gunfire rang out Nov. 5 in a Fort Hood building where soldiers get medical tests before and after deploying.

"The female soldier that was sitting next to me was in the fetal position. She was screaming: 'My baby! My baby!'" Sims said.
It's pretty much a known fact for anyone with more than two brain cells in their head that the attack on Fort Hood was a terrorist attack. Hasan had plenty of evidence against him there. He defended suicide bombings and said that Muslim service members were justified in killing US troops. He was in contact with Anwar al-Awlaki, one of the world's most notorious terrorists. And what did they discuss? Carrying out jihad in the United States.
Yet Barack Obama continues to classify this attack as "workplace violence".
Shame on him.
(Visited 1 times, 1 visits today)