Speculation has been running rampant ever since FBI Director James Comey released a certain letter last fall that, depending upon who you ask, may or may not have killed Hillary's Presidential hopes. The other day Comey offered an impassioned defense of his actions – much to the dismay of Senator Dianne Feinstein (D-CA).
This morning the media and Twitter were all a flutter over the fact that Comey misstated the number of emails that Hillary et al sent to Weiner's laptop for printing. Lost in the celebration was the fact that a number of emails -did end up on the dude's laptop when they shouldn't have!
Well, it seems that President Trump has had enough.
BREAKING: FBI Director James Comey "has been terminated and removed from office," Press Sec. Sean Spicer says in statement. pic.twitter.com/JelbCi9Pfa

— ABC News Politics (@ABCPolitics) May 9, 2017
The actual firing letter is short and very much to the point.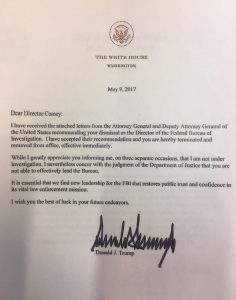 In it, the President states the following:
"While I greatly appreciate you informing me, on three separate occasions, that I am not under investigation, I nevertheless concur with the judgment of the Department of Justice that you are not able to effectively lead the bureau," Mr. Trump said in a letter dated Tuesday to Mr. Comey.

"It is essential that we find new leadership for the F.B.I. that restores public trust and confidence in its vital law enforcement mission," Mr. Trump wrote.
Attorney General Sessions had sent a letter to President Trump earlier today:
NEW: "A fresh start is needed at the leadership of the FBI," reads letter from AG Sessions to Pres. Trump https://t.co/H9n7JKbYS7 pic.twitter.com/Y6s28QCFKu

— CBS News (@CBSNews) May 9, 2017
And of course, pundits and the media are gonna offer up their hot take on the situation.
"It's a very unusual situation," Scott Pelley says. "The FBI director is appointed to a 10-yr. term in order to insulate him from politics." pic.twitter.com/taPZmnvTSw

— CBS News (@CBSNews) May 9, 2017
"This is the kind of thing that goes on in non-democracies." – Jeffrey Toobin on CNN

— David Ingram (@David_Ingram) May 9, 2017
Huh?? That makes zero sense.
Trump just fired the guy leading the investigation into Trump.

— Josh Rogin (@joshrogin) May 9, 2017
This is legitimately terrifying.

— Matthew Miller (@matthewamiller) May 9, 2017
Oh good grief! Need a blankie?
Did Sessions recommend firing Comey bc of tainted testimony/lying under oath?
Cause Sessions' own testimony…

— Rodrigo Campos (@rodrigocampos) May 9, 2017
Maybe this will help…
So liberals who hated Comey now think this is the beginning of fascism? You all need fidget toys and some consistency of belief, people.

— John Podhoretz (@jpodhoretz) May 9, 2017
While the media, liberals, and Democrats (I know, they are all mostly one and the same) try and figure out how to classify this as either obstruction of justice or more collusion with Russia, the fact is this. The left complained about Comey, but now that he is fired, they are complaining even more. Get. A. Grip people!
In all honesty, this could be a good thing. Anything that Comey attempted to do and be viewed as impartial, given the investigations last year and specifically last fall, was going to fail miserably and cause issues within the FBI and the Administration. This seems like a move to fix a problem before it gets even worse.
Now the question is: Who will be nominated as the next FBI Director?
(Visited 8 times, 8 visits today)