Something that was started as a way to get a little comedic relief took on a life of its own.
Some Americans preparing for Hurricane Irma are coming up with unusual ways to show their defiance.

They are planning to fire bullets into the storm or use flame throwers and lasers to show their resistance – although there's no way to stop the path of a hurricane.

So far Irma has left a trail of destruction across the Caribbean, affecting an estimated 1.2m people.

More than 43,000 people have signed up to shoot at Hurricane Irma.

"A combination of stress and boredom made me start the event," explains Ryon Edwards, who created it on Facebook.
Stress and boredom hmmm? This was done as a way to "lighten the mood?" In many ways it did, given the responses.
Isn't this just going to make the weather madder?" asks one.

"Are liberals allowed to throw pillows? (asking for a friend)" says another.

"It's time we took a stand against this bully!" reads the event description.

"This is our home, nobody drives us out of our own territory.

"Join me in this fight as we shoot flames at Hurricane Irma and dissipate her on the spot."

One person has asked if bringing Flaming Hot Cheetos (the American version of Wotsits) will work.
Ok, the Flaming Hot Cheetos might do the trick. But if not, supposedly pushing the storm in another direction will help. If that doesn't work, try leaning into the 120+ mph wind gusts and screaming at the storm.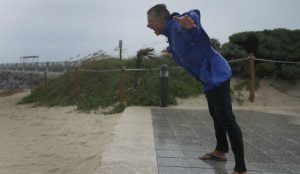 Which would probably be about as effective as Al Gore's carbon footprint magically shrinking, but I digress.
Ryon and his pals were more than a little surprised at the reaction. The FaceBook event went viral, and media all over the world picked up the story. The jokes were either writing themselves or had an assist from classical references to certain TV shows.
It was all fun and games until late Saturday night when the Sheriff showed up. RUH ROH!!
To clarify, DO NOT shoot weapons @ #Irma. You won't make it turn around & it will have very dangerous side effectshttps://t.co/CV4Y9OJknv

— Pasco Sheriff (@PascoSheriff) September 10, 2017
Yes, you see what goes up typically does come back down….a LOT faster. Dodging bullets can put a definite crimp in the party!
The responses to the Pasco Sheriff's tweet were weird, stupid, and amusing.
Ahh, they're just shootin' the breeze….(sorry, I'll show myself out….)

— Chooglin (@Chooglin1) September 10, 2017
Not the recommended way to shoot the breeze

— Lars Plougmann (@larsz) September 10, 2017
What's next?… pic.twitter.com/a23ycOOiro

— Scott M. (@scottymooo) September 10, 2017
The Pasco County Sheriff's department has a lot on their hands right now since Irma has landed.
JUST IN: NWS issues Extreme Wind Warning for southwest Collier Co., Florida — including Naples — as Hurricane #Irma's eye bears down. pic.twitter.com/ckOM7HvTdr

— NBC Nightly News (@NBCNightlyNews) September 10, 2017
This morning Pasco Sheriff sent this tweet.
Hey everyone here for shooting guns at hurricanes…how about you RT this, too, and get some volunteers for our shelters? pic.twitter.com/Bn9wL0U8xM

— Pasco Sheriff (@PascoSheriff) September 10, 2017
And this, just a little while ago.
PLEASE SHARE

Updated list of shelters as of 10:40am. No person or pets turned away as long as shelter is not full.#Pasco #HurrcaneIrma pic.twitter.com/LN6jVXTpne

— Pasco Sheriff (@PascoSheriff) September 10, 2017
It would be great if the Shoot Irma party-goers would help spread the word. Meanwhile, Irma is going to do her thing. Mother Nature is going to flex her muscles until she gets tired, and law enforcement, including Pasco County Sheriff, will also have to educate more idiots.
We ask that you do not do this. Please ride inside the vehicle during this weather. pic.twitter.com/2cpYcfXfl4

— Pasco Sheriff (@PascoSheriff) September 10, 2017
Ya think??!! I predict a Simpson's episode channeling the Shoot Irma idiocy in 3, 2, 1…
(Visited 84 times, 84 visits today)