I usually have sympathy for people who are hurt. I don't care about beliefs or politics when someone is in pain.
However, this video made me giggle like a middle schooler. My husband winced, but I guess he's seeing it from a different perspective.
At the Trump rally in Phoenix yesterday, Antifa showed up to throw gas canisters, rocks, and bottles at the police. However, police in riot gear answered back with tear gas and nonlethal rounds.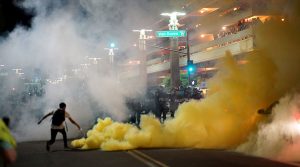 And then this happened.
Some Antifa moron decided to kick a tear gas canister back at the riot police. Consequently, the police responded with a non-lethal round to his, well, family jewels.
And this video provides WWE commentary for even more fun.
Everything is better with @JRsBBQ on the call https://t.co/sbQwxsIrT7

— Matt Cones (@FattMatt39) August 23, 2017
But wait! There's even more hilarity.
Ben Shapiro noticed that the guy who helped Mr. Soprano limp off the field of battle was wearing a Kaepernick jersey.
The most underrated part of the Antifa guy taking a beanbag to the balls video is the dude in the Kaepernick jersey helping him.

— Ben Shapiro (@benshapiro) August 23, 2017
Enter the wags on Twitter.
I told you Kaepernick can be a good backup

— Ed Rooney (@Pspice07) August 23, 2017
Kaepernick finally got some playing time https://t.co/o34SbWnnK2

— Conner Hogue (@HogueCM) August 23, 2017
And finally, this:
Kaepernick jersey guy: "You should have kneeled."

— Sterling Holobyte (@SterlingHolobyt) August 23, 2017
So what's next for clown who caught it in the crotch? Will he tantrum in front of the police again?
Hold on, he could do Michael Jackson impressions!
I think he may not be moonwalking for a while, though. Hee, hee, hee!
(Visited 8 times, 8 visits today)