Noted military history and policy expert Chelsea Handler, whose biggest academic accomplishment is apparently passing a breathalyzer test once, had some sage advice for U.S. military leadership yesterday:
Quite the judicious advice from someone who admits to have barely graduated high school to men such as Joint Chiefs Chairman Joseph Dunford, who sports a fashionable Master's degree from Georgetown, and another one From Tufts, West Point graduate and current SACEUR Mike Scaparrotti, first African-American West Point Cadet Brigade Commander Vince Brooks, and Auburn University and Naval War College graduate Admiral Mike Rogers, who currently serves as the Director of the National Security Agency. Not to mention retired Marine Corps General and current SECDEF James Mattis, who has a Master's degree from the National War College, and has been nicknamed "The Warrior Monk" owing to his lifelong bachelorhood and devotion to the study of war.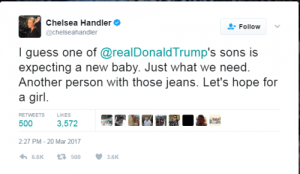 Keep in mind this is the same anencephalic (or is it syphilitic, since that particular disease brings on the Swiss cheese brain crazy) nitwit that in March tweeted that she hoped Eric Trump's first baby didn't carry on his "jeans," and then blamed the mistake on drugs.
Well, gosh! The "I'm not stupid; I'm just stoned" excuse? I hear that so often!
Now, I'm certainly not going to dwell on Handler's writing mistakes. We're all sometimes guilty of errors. We're all human.
I do, however, find it instructive that this is the same celebutard bimbo who just months before that spastic, stoned Twitterage saw it fit to ridicule Melania Trump's foreign accent by claiming she would never have the First Lady on her show because "she can barely speak English."
For the record, Mrs. Trump, who was born in Slovenia, speaks Slovenian, English, French, Serbian and German.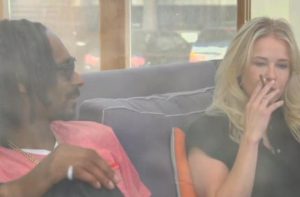 Handler, on the other hand, barely speaks English on days when she's not bogarting the dubage.
So, now Handler has graduated from ridiculing the accents and language skills of immigrants – a class of people whom she and her imbecilic ilk supposedly support (unless, of course they happen to be married to someone she dislikes) – to advising the military to forcibly remove a sitting President.
Banana republic much, Chelsea?
She wants the military, who take an oath to support and defend the Constitution of the United States, to overthrow a duly elected President of the United States because she can't accept the fact that Queen Pantsuit lost the election.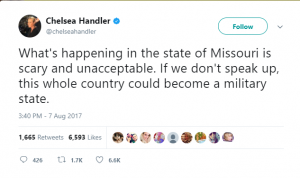 The lack of self awareness becomes even more pathetic when one realizes that only four days before issuing this erudite philosophical call to the nation's military leadership, Handler was nervously derping about the country becoming a "military state" because MISSOURI!
Not that I believe Handler is in any way capable of critical thought or actual research that doesn't involve ingesting vast amounts of mind-altering substances, but she might want to look up what the law says about those who advocate the overthrow of government.
(Visited 5 times, 5 visits today)