Otto Warmbier, a young man with a bright future ahead of him, has died. As our readers know, Otto traveled to China and decided to join a tour group traveling to North Korea. While there, he made the tragic decision to take a poster, a freaking POSTER! off a wall in a hotel hallway. That decision led to his arrest, and a lousy dictatorship-style, one-hour trial. The sentence? Fifteen years of hard labor.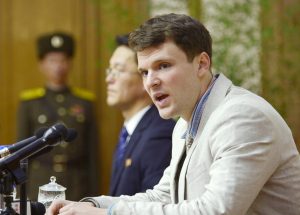 The sham trial and his statements were infuriating and heartbreaking to watch.
Surely there would be recourse? Couldn't the Obama Administration stop this from happening? It seems they couldn't…or wouldn't help. And then we receive the announcement from Secretary of State Tillerson that Otto has been freed but will be coming home in a coma. Kim wrote about his father's statement and the grim medical prognosis here.
Sadly, and tragically Otto Warmbier, 22 years old, died today from the injuries and damage he suffered at the hands of the North Korean government.
Breaking News: Otto Warmbier, who was held prisoner in North Korea for 17 months before coming home last week, has died, his family said. pic.twitter.com/GW9aUlSAcR

— Fox News (@FoxNews) June 19, 2017
His family released a statement that was a beautiful tribute to Otto and they expressed their grateful thanks to the medical team who oversaw his care:
"It is our sad duty to report that our son, Otto Warmbier, has completed his journey home," his family said in part in a statement. "Surrounded by his loving family, Otto died today at 2:20 p.m."

"It would be easy at a moment like this to focus on all that we lost — future time that won't be spent with a warm, engaging, brilliant young man whose curiosity and enthusiasm for life knew no bounds," the family's statement continues. "But we choose to focus on the time we were given to be with this remarkable person. You can tell from the outpouring of emotion from the communities that he touched — Wyoming, Ohio, and the University of Virginia to name just two — that the love for Otto went well beyond his immediate family."

"When Otto returned to Cincinnati late on June 13th he was unable to speak, unable to see and unable to react to verbal commands. He looked very uncomfortable — almost anguished. Although we would never hear his voice again, within a day the countenance of his face changed — he was at peace. He was home and we believe he could sense that."
Senator Rob Portman issued a statement that said, in part:
Sen. Portman: Otto Warmbier had "a bright future ahead of him. His passing today is a loss for Ohio and for all of us."

— NBC Nightly News (@NBCNightlyNews) June 19, 2017
Many people are going to want to blame somebody…ANYBODY…for Otto's death. But the plain truth of it is, the North Korean government is the one to blame. They didn't have to make an example of that young man the way that they did. They could've and should've just made him leave the country. Instead they chose to thumb their noses at the United States and 'make an example' out of this young man.
What did the Obama Administration do? Nothing. And they ALSO told the Warmbier family to keep their mouths shut because doing otherwise would make the Norks mad.
Otto Warmbier's death is yet another reminder of the former administration's failures to protect Americans in distress overseas

— ©AM€®ON™ (@CameronBlount1) June 19, 2017
Well, guess what? That didn't stop the Norks from torturing and killing Otto. And that especially didn't stop them from sending this young man home in a heinous, in-your-face kind of way to all Americans.
What can President Trump do in retaliation? What should he do? The country is already starving. So economic sanctions probably won't work. Their missile program on the other hand, needs to be shut down and shut down BIGLY. The North Koreans' cyber warfare capabilities are increasingly problematic as well. Shut them DOWN!
Do I want President Trump to do something just so we can all feel better? NO. But a hostile nation state held an American citizen captive all because of an incredibly stupid poster! That same hostile nation state, by far the worst dictatorship regime in the world, tortured an American citizen. Otto's death is completely due to the evil that is North Korea. In my opinion, President Trump should make North Korea understand the grave consequences of their actions. Otherwise, they will decide to inflict worse on other American citizens without impunity. The Trump Administration has a great deal to consider over the coming days in that regard.
Our thoughts and prayers are with the Warmbier family. May Otto be at peace.
(Visited 12 times, 12 visits today)