When I first heard a Ninth Circuit judge had requested sua sponte for the parties in Washington v. Trump to submit briefs on whether an en banc panel should rehear the TRO challenge I thought there must be some mistake.
live shot of lawyer twitter as it tries to figure out this 9th Circuit thing pic.twitter.com/S5tu51I3dP

— Matt Pearce (@mattdpearce) February 10, 2017
Sua sponte means on the initiative of the court, or on its own motion. A sua sponte action is very unusual as the tenets of our adversarial system normally rely upon the parties to bring desired motions to the court and not the other way around.
Appellate courts sit with panels of three judges. Appellate circuits have many more judges than three and an en banc panel normally means that the entire court with the full roster of judges will rehear a case. Only an en banc panel can overturn another panel's ruling.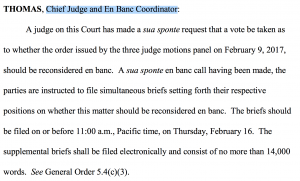 In the case of the Ninth Circuit, there are 29 appellate judges (the circuit is huge, and probably needs dividing but that's another story). As a practical matter, the Ninth Circuit en banc panel will only seat nine or ten judges and not all 29, though that would be something to observe!
A 9th Cir. judge has sua sponte called for briefs & a vote on en banc rehearing of yesterday's ruling. Still need 12 more for it to happen.

— Steve Vladeck (@steve_vladeck) February 10, 2017
Again, I can't stress this enough: DO NOT PUT TOO MUCH HOPE INTO THIS. #SuaSponte requests are rare but do occassionally happen. #9thCircuit

— Doug Quixote (@DeTroyes1) February 11, 2017
Why would this happen? My guess is that there is apparently at least one judge, but probably more, on the Ninth Circuit who values national security over travel inconvenience. I assume that, having been invited to do so, the Government would submit a brief advocating for the rehearing. While the Government may not have wasted any time on this otherwise, this is possibly a crack in the fortifications and the Government needs to make the most of this opportunity.
@MDAppeal Bea?

— Evan Bernick (@evanbernick) February 10, 2017
@MDAppeal N.R. Smith?

— Jon Taylor (@jontaylor1) February 10, 2017
@MDAppeal @jontaylor1 maybe J. Ikuta?

— Jonathan Eisenman (@JHEisenman) February 10, 2017
If the Ninth Circuit does vote to rehear the case, the Government needs to get its best oral advocate out in front on this argument. The last guy was embarrassingly bad. There was a failure to land any strong statements, and while the hearing took place by phone, he had poor protocol talking over the judges to the extreme. Maybe he couldn't hear them, but the States' attorney did not have the same problem and was much more professional in his presentation.
Sidebar, this is interesting:
Gorsuch in 2016: urged sua sponte en banc review to overturn decision for Planned Parenthood of Utah https://t.co/Y0bDF4XGVO #SCOTUS #Trump

— Brandon Mark (@SaltLakeLawyer) February 1, 2017
The court has asked the parties to submit briefs on whether the matter should be reheard by 11:00 a.m. on Thursday, February 16, 2017. The documents should be available here.
(Visited 1 times, 1 visits today)