The Super Bowl Champions New England Patriots' visit to the White House has been all over the news lately. Especially on April 19th when the visit actually took place. However, the media just couldn't help making the story as political and anti-Trump as possible!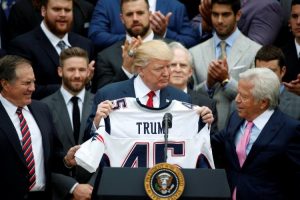 Tom Brady decided not to attend. But WAIT! Isn't he a fan of Trump's? Does this mean they are no longer pals? The idiotic theories ran amuck. And then…GASP! Gisele tweeted something about participating in an anti-Trump march and the crowd went wild.
What all the idiots are forgetting is that Tom Brady's mom is very ill. It was a major deal that she was healthy enough to attend the Super Bowl this year.
Hi, before you mock Tom Brady because his wife might not be a big Trump fan remember his mom has cancer and there are other factors at play.

— Kyle Feldscher (@Kyle_Feldscher) April 19, 2017
Maybe hold back the Tom Brady WH shots a bit, people.

Don't forget how sick his mother is. Sometimes it just requires using your brain.

— Eric Edholm (@Eric_Edholm) April 19, 2017
Yeah, no. No one ever thought of that.
Meanwhile the New York Times breathlessly reported that more than two dozen players weren't in attendance! Oh NOOOOO!!
During a ceremony on the South Lawn of the White House on Wednesday, President Trump singled out several members of the New England Patriots, including wide receiver Danny Amendola, calling for them to raise a hand or step forward for acknowledgment. But Amendola was not there, nor were two dozen or more other players for the Super Bowl champions.

The customary White House visit for sports champions has become especially fraught since Trump was elected, with some athletes saying they would reject an invitation for political reasons. The issue was stark on Wednesday, when a relatively small contingent of Patriots players flanked the president.
But wait! There's more. The New York Times used this photo as the lead to their amazingly accurate (NOT) story.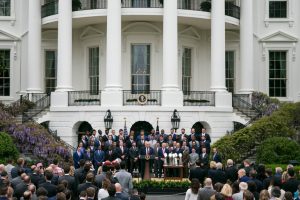 And tweeted out this bit of dreck:
Patriots' turnout for President Obama in 2015 vs. Patriots' turnout for President Trump today: https://t.co/OxMEOqZonI pic.twitter.com/pLmJWhOw1j

— NYT Sports (@NYTSports) April 19, 2017
Well, the New England Patriots were NOT thrilled. They threw a penalty flag on the New York Times.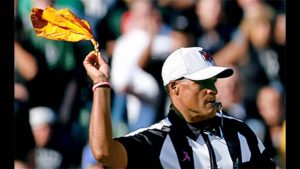 The entire organization was not pleased that the New York Times, the Boston Globe, and the media as a whole were making this entire celebratory visit about politics rather than a kudos for their Super Bowl win! And I, Broncos fan that I am, don't blame them one bit.
These photos lack context. Facts: In 2015, over 40 football staff were on the stairs. In 2017, they were seated on the South Lawn. https://t.co/iIYtV0hR6Y

— New England Patriots (@Patriots) April 20, 2017
Wow. Now that's a 15 yard penalty if I ever saw one!
When the New England Patriots has to fact check the New York Times over a misleading story that has received 30K+ retweets. https://t.co/8gRHgNvLSI

— Josh Jordan (@NumbersMuncher) April 20, 2017
Exactly, and as of this writing, the New York Times tweet is still up and running. Are they gunning for additional 15 yard penalties? I guess so.
@BenHowe @NYTSports Nah, let's make it the main subject of the next press conference, instead.

— Hollywoo Star (@wh0sthatd0g) April 20, 2017
Speaking of press conferences, I wonder what the Gronk would've had to say if he knew the New York Times was running offsides with their fake news story when he did this?
Maybe the Gronk needs to crash the New York Times newsroom and give them a lesson in REAL news. This "correction" buried at the very bottom of the article while the headline and rest of the story stays the same does NOT help the New York Times one bit.
Correction: April 19, 2017

An earlier version of this article included photos comparing the size of the Patriots' gathering at the White House in 2015 and the gathering on Wednesday. The photo from Wednesday only showed players and coaches; the 2015 photo showed players, coaches and support staff and has been removed.
Memo to the New York Times: Ticking off the Super Bowl Champions New England Patriots is the surest way to lose readership, advertisers, and the entire game.
(Visited 57 times, 57 visits today)