Not long after the news broke that the Navy's had their first female applicant for the notorious SEAL training program has voluntarily dropped out of the program. The female midshipman who has been identified only as a ROTC cadet in her junior year at an unidentified college exited the SEAL Officer Assessment and Selection (SOAS) program prior to completing the three-week program that would have qualified her for the NSW officer community manager and officer selection panel. Completion of which would have qualified her for the Basic Underwater Demolition/SEAL training course which lasts a grueling 24 weeks.
In an article from NPR trumpeting her candidacy the unforgiving statistics were touched on, but in my opinion, they were glossed over.
"Whoever these unnamed trailblazers are, the path ahead for them won't be easy. To become a SEAL or SWCC, they'll need to make it through Basic Underwater Demolition/SEAL training, or BUD/S, which is designed to be extremely physically and mentally demanding.

Few candidates who undertake the training emerge as SEALs or special boat operators. The enlisted SEAL attrition rate is 73 to 75 percent, according to the Navy, while the SWCC attrition rate is 63 percent."
Flip those stats on their head and you get a rate of just 37% of the officer candidates finishing the program. Add to that the knowledge that these statistics apply to male candidates exclusively and any rational human being can arrive at the conclusion that when you integrate the training you will have a lower rate of women finishing just based on the physical differences between the sexes. But we cannot acknowledge those according to the Social Justice Warrior (SJW) class. When CNN Tweeted about her candidacy a few weeks ago, the usual SJW trolls showed up to express the same types of opinions I used to hold.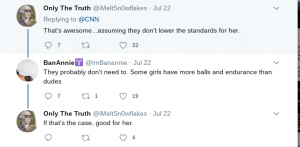 As the daughter of an airborne qualified Army Ranger and a Citadel graduate, I am not surprised. I am disgusted. I am remembering how I felt when Shannon Faulkner embarrassed me thoroughly when her little tubby self-went screaming from the grounds of that school because she just couldn't cut it. I, as a young feminist, had defended her right to attend my father's alma mater to him and others, arguing that anything a man can do, a woman can do better. Ah, youth! Unfortunately, at the tender age of 22, I had yet to come to grips with the physical reality of the differences of the effects of military service on men and women which have now been well documented in scientific literature.
Frankly just watching the BUDS scene from American Sniper convinced me that I had indeed made the right choice when I determined that I was simply not cut out for military service all those years ago. After all, I was the girl who used to tell people that I knew I wouldn't last long in boot camp because if a Drill Instructor ever told me to "Drop and give me twenty" I would reply "Not even if you were cute".
I think that the Navy did this young lady a solid by not revealing her identity to the press. I understand that they did so since if she had made it through she would have been a special operator-and generally it is a bad idea to spread their identities around in the press. However with the current climate, and recent behavior, among the SJW's of the world, I can imagine that this young lady would face the wrath of the current crop of disappointed feminists. Where I ate brownies and bitched a blue streak about Shannon's stupidity, I could see feminists today smearing her in the press or taking other horrible actions. In the meantime, where is my shocked face?
(Visited 10 times, 10 visits today)