The news broke late tonight that Michael Flynn, the president's national security advisor, had resigned.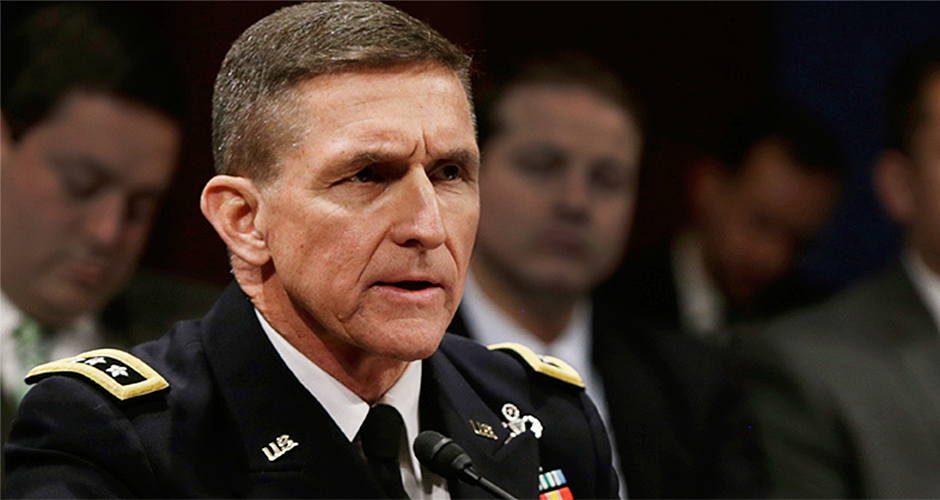 BREAKING: Michael Flynn resigns as Donald Trump's national security adviser https://t.co/j3oC8058XX pic.twitter.com/hVcOTPwbRH

— Bloomberg Politics (@bpolitics) February 14, 2017
BREAKING: CNN Reporting Michael Flynn Has Resigned | RedState https://t.co/cIv0MjPmjh via @JayCaruos .. .wow!

— Caleb Howe (@CalebHowe) February 14, 2017

The storm had been brewing since questions about Flynn's conversations with Russia, and what exactly he told Vice President Pence about those talks.

Flynn's resignation letter acknowledges that he was not entirely straight with the vice president.

The White House has examined a transcript of a wiretapped conversation that Mr. Flynn had with Sergey I. Kislyak, the Russian ambassador, in December, according to administration officials. Mr. Flynn originally told Mr. Pence and others that the call was limited to small talk and holiday pleasantries.

But the conversation, according to officials who have seen the transcript of the wiretap, also included a discussion about sanctions imposed on Russia after intelligence agencies determined that Mr. Putin's government tried to interfere with the 2016 election on Mr. Trump's behalf. Still, current and former administration officials familiar with the call said the transcript was ambiguous enough that Mr. Trump could justify both firing or retaining Mr. Flynn.
While it may have been a sin of omission, it is one that the Trump administration cannot afford to have. And the person it really upset was Mike Pence.
Times reports that Pence is "incensed" at Flynn for withholding information about his calls with Kislyak: https://t.co/qLiUENQTOu pic.twitter.com/ewG46ZL6OG

— Natasha Bertrand (@NatashaBertrand) February 14, 2017

Interestingly, this does prove how valuable Vice President Pence's counsel is to President Trump (which is a good thing).
In his resignation letter, which the White House emailed to reporters, Mr. Flynn said he had held numerous calls with foreign officials during the transition. "Unfortunately, because of the fast pace of events, I inadvertently briefed the Vice President Elect and others with incomplete information regarding my phone calls with the Russian Ambassador," he wrote. "I have sincerely apologized to the President and the Vice President, and they have accepted my apology."

The White House said in the statement that it was replacing Mr. Flynn with retired Lt. General Joseph Keith Kellogg, Jr., a Vietnam War veteran, as acting national security adviser.
The full text of the letter can be seen here:
Flynn: "I inadvertently briefed the Vice President Elect and others with incomplete information" pic.twitter.com/e02DN4Uxps

— Gideon Resnick (@GideonResnick) February 14, 2017

Anyone who has ever watched "The Apprentice" knows that Donald Trump will excuse many things. But he will never excuse someone lying to him. While he accepted Flynn's apology, it is clear that he expected Flynn to resign so that the president would not have to break out the proverbial "you're fired."
Most pundit reaction has been one of relief.
Bad pick to start with. Lying to VP — especially with Russia whispers floating — was unforgivable and incredibly stupid.

— Guy Benson (@guypbenson) February 14, 2017
It's good that Flynn is out. It's terrible that the admin is in such disarray. It's sad to see a warrior's career end like that.

— David French (@DavidAFrench) February 14, 2017
Good on @WhiteHouse
If you cannot trust your National Security guy act swiftly. Flynn resignation in & accepted, Kellogg in for now.

— SalenaZito (@SalenaZito) February 14, 2017

The administration now has another mess to clean up, and damage control will begin immediately. Rumors are that David Petraeus may be interviewing for the position. Victory Girls will continue to watch the story for ongoing developments.
(Visited 2 times, 2 visits today)