I'm gonna come right out here and say this: calling a four-year-old boy a "gay icon" is a special kind of sick.
Who does this?
Well, of course, it's the gay activist community. And the little boy they're slobbering over? He's little Prince George of the British royal family. You know, the cute little son of the Duke and Duchess of Cambridge, whom we better know as Prince William and Kate.
It all started when the royal family was in Germany last month. Little George climbed into the cockpit of a helicopter, and like many little boys he was thrilled. Moreover, it was kind of an early birthday present for him since he was about to turn four.
So here's the photograph that so excited some really sick people on the LGBT site PinkNews: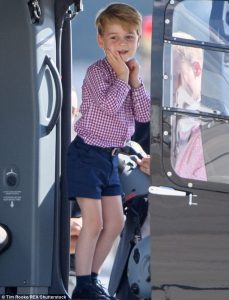 The adorable little boy led PinkNews writer Josh Jackman to write this sick tripe:
"Prince George has become a gay icon overnight. The monarch-to-be has always been cute and well-dressed, but one day before his fourth birthday, a photo of him excitedly holding his face changed everything."
Oh, it gets worse.
And then there's this, from a 'HuffPostQueer' writer:
literally only praying for this world to be saved so lil Prince George can ascend the throne and become the first gay ass King of England

— JamesMichael Nichols (@JMN) July 22, 2017
One Northern Irish politician, Jim Allister, is disgusted, and rightfully so:
'Sexualising a young child in this fashion is entirely inappropriate. In reality, the photo which prompted the piece shows a four-year-old boy who is smartly dressed and excited about being on a helicopter with his male father and female mother. To take an image of a little boy and to fantasise of him being an icon for a life defined by sex is outrageous and sick.'
But PinkNews defends its writing, saying that while little George is not necessarily gay, but is an advocate for gays. Or some such rot:
"There are of course those who say that any discussion of the prince's sexuality is premature, but this isn't about his sexuality. As Madonna, Lady Gaga, the Babadook and yes, even Ariana Grande have shown, you don't have to be gay or even have a defined sexuality to be an LGBT icon. Kids are born with a sexuality, and should be encouraged to find it without it being assumed that they're straight."
This is no longer about a beleaguered community gaining rights. It's not about equality. This is about destruction of traditional mores and about pushing gay sexual practices into the public square. Even if it means turning an innocent little boy into some sort of sick sex object.
Stop pissing on my foot and telling me that it's raining, m'kay?
(Visited 8 times, 8 visits today)