Another day and another revelation in the curious case of Debbie Wasserman Schultz and her IT guru, Imran Awan. We've written about it here, here, and here. The Daily Caller has been on the case from the very beginning. Needless to say, with every report, the pile of poo regarding all of this keeps getting deeper and smellier.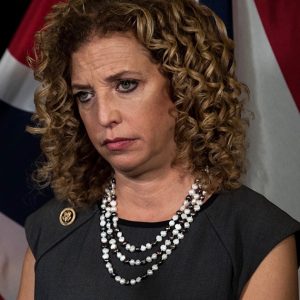 In the last few days we find out the following:
Congresswoman Yvette Clark (D-NY) and her Chief of Staff wrote off a $120,000 equipment loss tied directly to Awan and one of his merry band of felons.
Debbie leveled claims that it was Islamaphobia, hence the baseless accusations against her and Imran. One witness was having NONE of that.
"He's a really bad guy, he laid the pressure on so heavily," she told TheDCNF. "He absolutely is capable of trying to extort money. … He presents himself well — a clean-cut articulate man — but when he turns snake, I can't think for a minute that he didn't turn dishonest in his work [in Congress]."
There was, as of August 22, 2017, an ACTIVE email account on the House system that Imran was STILL using! 123@mail.house.gov 
That email account is tied to a guy named Nathan Bennett. He works for Congressman Andre Carson (D-IN) as a Deputy Chief of Staff and covers foreign affairs and national security issues. Keep in mind, Carson sits on the House Homeland Security AND Intelligence committees.
Imran's attorney, Chris Gowen, asked that court remove Awan's ankle monitor because he might need to respond to an emergency with his kids. For some odd reason Gowen failed to mention that Awan's kids are in PAKISTAN. Also, the ankle monitor hinders Awan driving for Uber. Uber says WHO?
Imran doesn't have to worry about his kids. They, along with his wife Hina Alvi, are coming back to the U.S. at the end of the month. The kicker is that she brokered a deal with the authorities that would allow her to step back onto U.S. soil as long as she turned herself in and surrendered her passport.
Remember the laptop that Debbie Wasserman Shultz was so hot to trot about?  The one that she said NEVER belonged to her and the very same one that she threatened Capitol Police about during this meeting?
Guess what? There's a problem with that. A BIG ONE.
On 4/6/2017 at 0021 hours, with the building closed to the public, AOC informed USCP Rayburn offices of an unattended bag in the phone booth on the 2nd floor. The officer received the open-contents visible bag and prepared a found property report. While reviewing the inventory of the bag contents, the officer found:

#1 a Pakistani ID card with the name Mohommed Ashraf Awan
#2 a copy – not original – of a drivers license with name Imran Awan
#3 a copy (front and back) of his congressional ID
#4 an Apple laptop with the homescreen initials 'RepDWS'
#5 composition notebooks with notes handwritten saying 'attorney client privilege' and possibly discussing case details below
#6 loose letters addressed to US Attorney of DC discussing the apparent owner of the bag being investigated. [Emphasis Added]
So, the laptop was Debbie's after all? WOW! No wonder she was so intent on making the Capitol police give it back! No wonder she's hired outside counsel to protect her by weirdly arguing the speech and debate clause on the case! How the speech and debate clause will keep the police from examining the laptop is anyone's guess, but seems Debbie thinks it's worth a shot. Question is, why hire outside counsel when the House general counsel offers legal opinions on issues like this for FREE?
Yes, the waters of poo are getting deeper and smellier as this investigation continues.
This has all the elements of a Hollywood suspense film about Washington, but since it will hurt Democrats, only Luke is reporting on it https://t.co/8J4JAD0Lza

— Cameron Gray (@Cameron_Gray) September 7, 2017
No wonder @DWStweets has been MIA, and when people see her she looks like a nervous wreck. https://t.co/3QoD5vLtZs

— John Cardillo (@johncardillo) September 7, 2017
A strange story gets so much stranger. https://t.co/V3eIhN84X3

— David French (@DavidAFrench) September 7, 2017
Debbie and all the other Democrats involved really want this to go away. Too bad. So sad!
This case isn't about bank fraud. It's about national security. That is the sole reason why this case cannot and should not ever go away.
(Visited 78 times, 79 visits today)