Massive amounts of Senatorial hot air for starters. Seriously, that's what these confirmation hearings have evolved into in the last 20 years or so.
On Monday March 20, 2017, Senators Cory Gardner (R-CO) and Michael Bennett (D-CO) will introduce Judge Neil Gorsuch. Those intros should be of interest as Senator Bennett has stayed completely silent about the Gorsuch nomination. Meanwhile well over 220 Colorado attorneys, including prominent Democrats, are supporting Gorsuch, AND Bennett's former boss, Governor Bill Ritter, who appointed Bennett to his current seat, wrote a major op-ed in support of Gorsuch' nomination!
So what can we expect….really?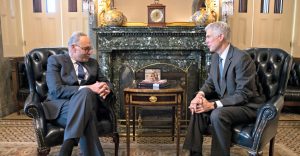 Chuck Schumer will strive to out-Schumer himself. He's made it extremely clear that he will be partisan all the way and do everything he can to derail this nomination. 
Senate Minority Leader Charles Schumer arguably telegraphed his opposition to Neil Gorsuch as the next Supreme Court justice almost 16 years ago when, as a freshman Democrat from New York, he broke what he called a taboo to say the Senate publicly should make ideology a factor in confirming judges.
When it comes time to rule, when the chips are down, Judge Gorsuch sides w/ the powerful few over Americans trying to get a fair shake.

— Chuck Schumer (@SenSchumer) March 15, 2017
Never mind the fact that Schumer had no problem voting to confirm Gorsuch in 2006. That was then, this is now. Never mind the fact that the American Bar Association rated him as 'well qualified.' Want to know where Schumer's ideology is on this? Read this 2001 op-ed, it's highly illuminating. Basically the rule of law and our Constitution are no longer as important as political ideology and feelings!
What else can we expect these next four days? Questions regarding voting rights, campaign finance reform, separation of powers, questions as to why he's against the 'little people,' and why administrative power is supposedly anti-immigrant and anti-foreigner (hint, it's not).
Some will try to paint him as out of touch with the mainstream, while still others will try to get him to admit he will threaten the independence of the judiciary. Oh really? Guess what? If that means a future decision by the United States Supreme Court, with Gorsuch on the bench, stops certain judges in Hawaii, Maryland, and Washington State in their tracks regarding the Trump Executive Orders 'travel ban', and stops others from putting politics above the law…I'm ALL for it!
On Tuesday and Wednesday, the questions for Judge Gorsuch will begin. This really should be a teaching moment and opportunity for the Senators, if only they will take it.
Senators could ask real questions, about the meaning of different constitutional or statutory provisions divorced from any pending or hypothetical cases. They can try to gauge whether the nominee's commitment to stare decisis (not overturning incorrect but longstanding precedent) is relatively strong (like Scalia) or less so (like Justice Clarence Thomas). Especially given Gorsuch's Oxford doctorate in legal philosophy, they can get at some deeper jurisprudential or philosophical issues without asking the nominee to either comment on pending cases (like the immigration executive orders) or generate out-of-context fodder for the evening news (anything about Roe v. Wade).
For additional questions the Senators could ask, REAL questions, not posturing for the camera, go here and here. For live blogging and great legal recap, Scotusblog will have more info than you can shake a stick at. For live coverage, C-Span is likely your best bet.
The live stream and a complete list of all who will be involved this week can be found here.
Quite frankly I'm with the guys at Powerline and Ilya Shapiro on this one. Substantive questions not grandstanding should be the watchword of these hearings, with the end result of a Gorsuch confirmation to the United States Supreme Court. This Republic will be well served with a jurist of his caliber on the bench.
(Visited 1 times, 1 visits today)