If you are reading this in Oroville, Marysville, Yuba County or anywhere south of the Oroville Dam, please do something now. Turn off the computer, Drag your pets, kids and irreplaceable stuff to the car and DRIVE NORTH.
Please do not try to be a hero, save your stuff or try to be a hero. Your life means more than your stuff. Let me repeat that: Your life means more than your house, your stuff and anything you and your insurance can replace. You do not play with natural disasters. The picture below shows how much damage raging waters can do.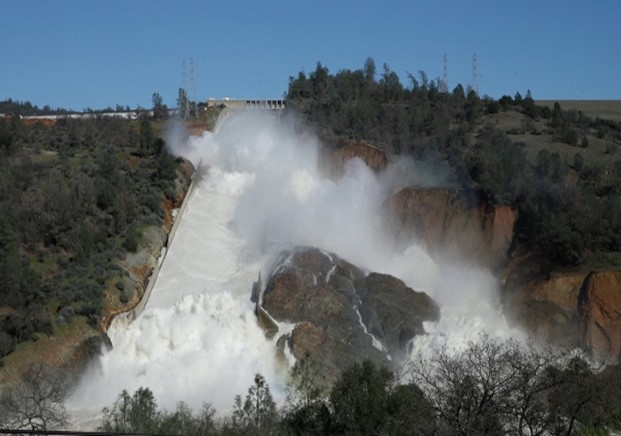 Even if the spillway holds, safe is better than sorry guys and gals. The San Jose Mercury has a nice live feed here and you have time to get out. Yes, the drive will suck and Chico will be crowded. But you will be alive to clean up and keep going and you being gone makes it safer for first responders. The Associated Press has updates here
The erosion at the head of the emergency spillway threatens to undermine the concrete weir and allow large, uncontrolled releases of water from Lake Oroville, the California Department of Water Resources said. Those potential flows could overwhelm the Feather River and other downstream waterways, channels and levees.
Why is this important?
The Butte County Sheriff did what he was supposed to do:
The evacuation order went out around 4 p.m. after engineers spotted a hole that was eroding back toward the top of the spillway.
Evacuating 130,000 people is not something that is a quick process.
Butte County Sheriff Koney Honea said engineers with the Department of Water Resources informed him shortly after 6 p.m. that the erosion on the emergency spillway at the Oroville Dam was not advancing as fast as they thought.
That would mean the spillway might fail. Which would be fatal.
"Unfortunately they couldn't advise me or tell me specifically how much time that would take so we had to make the very difficult and critical decision to initiate the evacuation of the Orville area and all locations south of that," he said. "We needed to get people moving quickly to save lives if the worst case scenario came into fruition."
This is what law enforcement is supposed to do. Bravo Sheriff Honea.
In other words, to avoid a dangerous situation, getting out now is the only option.  There are places to go found here
Twitter feed is useful for the out of state friends and families who are likely rather stressed and when the phone lines are overwhelmed it is not a bad place to get a blurb:
Emergency. Massive flood event possible if #OrovilleDam suffers any failure. Evacuate NOW if you're in Feather River floodplain. #water pic.twitter.com/Pp0zB2RKWy

— Peter Gleick (@PeterGleick) February 13, 2017
#OrovilleDam UPDATE- SB 70 at 149, SB 149 at 99, and NB 99 on Marysville are CLOSED. Working on opening both sides of NB 70. @Cal_OES

— Caltrans HQ (@CaltransHQ) February 13, 2017
If you are so inclined, I am sure the evacuees will need supplies.  Hopefully, state and local authorities will work with the feds.  Buena Suerte California.