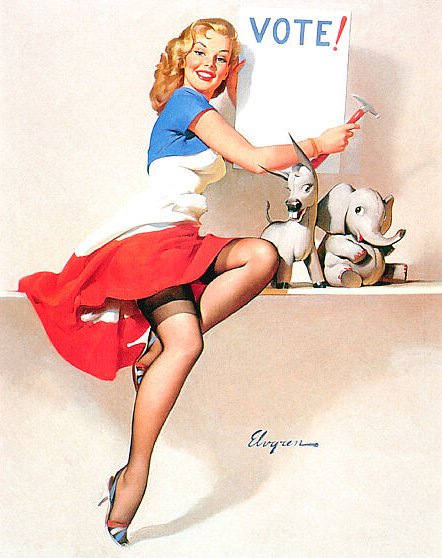 Today is the big day. Who will win, Romney or Obama? The anticipation will be nearly unbearable. We'll be covering the election all day today and throughout the night as well. You can also follow along on our Facebook page, which will also have regular updates. We might even throw in an election night drinking game for fun, too, and end up doing some drunkblogging. Because hey, if Obama pulls out a victory, we're going to need the alcohol.
Some thoughts to start out the day with, from Right Wing News:
* Here are the poll closing times for the key states tonight in the presidential race tonight. Unless it's really close, you should start to see these states called an hour or two after polls close.

7:00 PM EST: Virginia.
7:30 PM EST: North Carolina, Ohio
8:00 PM EST: Florida, New Hampshire, Pennsylvania
9:00 PM EST: Arizona, Colorado, Michigan, Minnesota, Wisconsin
10:00 PM EST: Iowa, Nevada
11:00 PM EST: Oregon

* Here are some indicators to watch for that could give you an idea of which way it's leaning.

– If Romney loses Virginia, North Carolina, or Florida, odds are that Obama is going to pull this race out.
– If Obama loses Pennsylvania, Michigan, or Minnesota then Romney probably has it in the bag.
– If both candidates win all the above states, then it COULD come down to Ohio.

Also, since the big polling dispute is over whether Democrats are being dramatically oversampled, watch the margins. If Mitt wins North Carolina by 6-7 points or either Florida or Virginia, it could be a strong indication that he's going to have a really big night across the board.
John Hawkins will be liveblogging over there too, so make sure to check in over there throughout the day as well. We'll add links to more blogs who will be covering the election as the day goes on.
Now, if you haven't yet… go vote!
UPDATE:
Over at Breitbart, it's been pointed out that Obama ended his campaign last night on a rather disappointing note. He had his final campaign rally in Ohio, which was attended by Bruce Springsteen and Jay Z, and, well…
The arena was half-empty. Obama used to be able to easily fill stadiums and arenas. Now, even with a couple of celebutards in attendance, he can only manage to fill them about halfway.
Meanwhile, Romney has been packing in the crowds virtually everywhere he goes.
What will this mean today? The enthusiasm gap could have a huge effect on who wins. Democrats are seemingly more pessimistic, nervous, angry, and unmotivated. Republicans, meanwhile, are much more excited, positive, upbeat, optimistic, and enthusiastic this go-around. Independents are flocking to Romney as well. Enthusiastic supporters will take the time to get out and vote. Demoralized people won't. So whichever candidate can harness that enthusiasm the best — and so far, it's clearly been Romney — has the best shot at winning.
UPDATE:
Some blog links for you:
Chicks on the Right will have some commentary and open threads going starting this evening, so be sure to swing by there later today.
American Thinker has a Geek's Guide to Election Night.
Jammie Wearing Fool has some election predictions up.
All American Blogger is doing Liberty News Live throughout the day.
Legal Insurrection has both a live Twitter feed and a live WordPress feed going on today, and they'll have another one tonight as well.
UPDATE: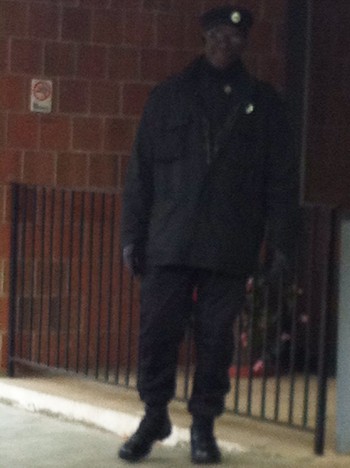 That's right! The New Black Panther Party is camped out in front of the 14th ward in Philadelphia, ready to intimidate voters all over again!
The Lonely Conservative has more, and also notes that GOP inspectors are getting kicked out. (A judge ordered them back in, though.)
Anything to win, right, Dems? If they can't win fairly, they'll win by force.
Meanwhile, Hot Air has some encouraging numbers in Ohio.
UPDATE:
Apparently, the New Black Panthers are also on the scene in Ohio.
Fortunately though, there are allegedly former Navy SEALs, supposedly from True the Vote, on the way to both Pennsylvania and Ohio to guard against voter intimidation. Can I get a "hell yeah" for our SEALs?!
Meanwhile, Politico's final poll shows that the race is a dead heat, but Romney is up by 15 with independents.
Ace of Spades has their "staff" picks up, and most of them have Romney winning.
UPDATE:
OK, so can anyone explain what the hell is going on in Philadelphia?! Check this out from Fox News: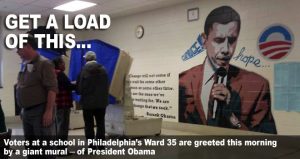 Seriously, is that even legal?
(Thanks to reader Marcus for the tip and the screengrab.)
UPDATE:
Civility, folks. It's being practiced today, especially by Obama voters. Oh, wait.
REPORT: A woman in a Detroit polling location was aggressively campaigning for Obama. A female voter in line objected. The Obama supporter punched the woman in the face.

Police came to arrest her and she smacked the cop.
Jeez, the mainstream media keeps saying that this is going to be a close race and that Obama's leading early, so why are Obama supporters to hostile? I mean, the media wouldn't lie or anything, right?
UPDATE:
We mentioned earlier, in this post, the rumor about retired US SEALs allegedly going to polling sites in PA and Ohio to counterbalance the voter intimidation tactics being used by The New Black Panther party. Well, we have confirmation on that it seems.
UPDATE:
As if the "what the f*** is wrong with Philly?" updates weren't piling up enough already, now we have another one from the PJ Tatler.
According to our source, a pollwatcher in Philadelphia's Ward 8, Div 30 witnessed a poll worker illegally going to voting booths with voters. The voters are not requesting assistance, and assistance affidavits are not being filled out. The pollwatcher has objected to the worker's behavior but is being ignored.

We have two photos from the scene. You can see a lady in pink, that is the poll worker who is allegedly going with voters to their voting booths in violation of the law.
Here is one of the two pictures: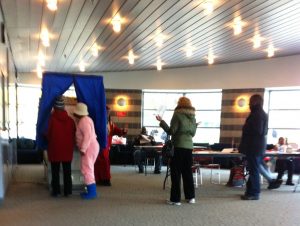 Meanwhile, in New York, The Gothamist points out that voting machines are malfunctioning right and left.
UPDATE:
And what would a national election be without that moron, former Vermont Governor, failed Presidential candidate, and DNC Chair Howard-HHHYEEEAAAHHHH-Dean saying ridiculous things? Check out this video of Howard Dean actually saying that the only way the Democrats will lose is through FRAUD.
It's just mockable really, Dr. Dean, especially if you consider that according to this article by Kerry Picket, a credentialed poll watcher this morning in Detroit was allegedly threatened with a gun. And if that wasn't enough Dr Dean, the poll watcher says that their 911 call was rejected. Here's the press release from the MI GOP spokesperson:
This morning, a legally credentialed poll watcher was threatened and intimidated while attempting to perform his legally allowed duties of observing the election process at precinct polling location 289 in Detroit. The poll watcher, a lawyer, was confronted by a voter in line, who demanded the poll watcher produce his credentials, which he did.

However, the voter said that wasn't good enough and that he had "a badge and a gun" and told the poll watcher get out of the precinct. Rather than allow the situation to escalate, the poll watcher left before the voter produced a badge or brandished a gun. Fearing for his safety, the poll watcher exited and called 911, however the Detroit Police refused to respond to the call – neglecting the fact that a voter alleged to have a 'badge' and a 'gun' in a precinct, putting other voters at risk.

Michigan Republican Party Chairman Bobby Schostak issued a statement concerning the issue the following statement:"Poll watchers, precinct workers and voters should not be put in danger when performing their duties, our Republic requires free and fair elections.

"I can only hope that this morning's outlandish, reckless and dangerous behavior, was not part of a coordinated effort by the Democratic Party and therefore, I am calling on Mark Brewer, Democratic Party Chairman, to condemn these threats of violence and pledge to ensuring all election workers, volunteers and citizens remain safe."
UPDATE
Twitchy is reporting that the death threats on Twitter against Mitt Romney during these final hours of the campaign are getting horrible. The Examiner reports that the death threats on Twitter have actually been bad all week long. And you may remember we even blogged about these threats here some time ago.
Check this threat to Mitt Romney out from an Obama supporter:
i'm gon shoot romney in duh face weather he win or not

— ¥A$ON CL!FTON(@SteeveCastro) November 6, 2012
Lovely. This obvious brain trust didn't stop at threats to the next President of the United States, he also threatens those who vote for him.
vote for romney i'll shoot u in the face , don't bee lee me gimme the addy to yuh poling place

— ¥A$ON CL!FTON(@SteeveCastro) November 6, 2012
These people are so damn low-rent — I can't wait until they're gone.
UPDATE:
Better late than never, I guess. A judge finally ordered to get that Obama mural in Philly covered. It was called an "oversight" — yeah, right.
Unfortunately, John Hawkins is reporting that this wasn't the only Obama mural at a polling place.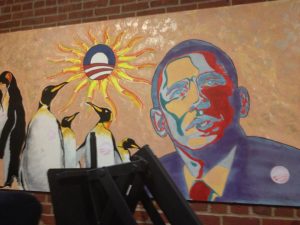 UPDATE:
Haha! Here's an obscure story about Vice President Joe Crazy Uncle Biden. Apparently, in his next political life — which we here at Victory Girls Blog hope is SOONER rather than later — Biden joked that he might run for a local office.
"I'm going to go back home and run for county council or something,"
Biden said this to a customer at a surprise campaign stop today at the Landmark Restaurant in Cleveland. That sounds like a great plan to us Uncle Joe!
UPDATE:
We've got less than ten minutes until the first wave of polls close (Georgia, Indiana, Kentucky, South Carolina, Vermont and Virginia). So what should you keep an eye on to get an idea of how the tide will be flowing?
Mainly, Virginia will be the state to watch. If Romney does well in Virginia, then it bodes well for a Romney victory. If he does badly in Virginia, then he can still win, but it'll be a much tougher battle than if he wins the state.
Also, Romney is reporting that he's only got one speech written for tonight: a victory speech. No concession speech is planned. Hopefully they've got some great internal numbers to back up that confidence.
UPDATE: (9:20 pm EST)
Obama wins Pennsylvania – This could be a bad indicator for the Romney camp.  As Barack Obama crippled the coal industry in the past 4 years, this is a major blow.  Even though PA was never considered to be up for grabs for Romney, increasing discontent among many in PA over the economy and the failing coal industry PA is so famous for was an early indicator that perhaps the state would be in play.
It's crucial for the Republicans to take the senate, but Democrat Bob Casey defeated challengers by a substantial margin.
UPDATE:  (9:37 pm)
GOP maintains control of the House  – Although this is good, and in fact the GOP increased its majority, without the Senate, Obamacare cannot be repealed and essentially Obamacare will be cemented in history and the U.S. will have socialized healthcare.
UPDATE:
The GOP kept the House but was unable to take the Senate. Senate hopefuls Mourdock (Indiana), Mack (Florida) and Allen (Virginia) were unsuccessful in their individual races.
For the last couple of hours, the Presidential race has been too close to call in Virginia, Florida, and Ohio. At about 8:25 pm pacific time, FOX NEWS called Ohio and Iowa for Barack Obama and thus, announced that Barack Obama had received the necessary magically number of 270 votes necessary to win re-election. However, Karl Rove has raised questions, along with the Romney camp, about the results of the raw vote count in Ohio. The FOX NEWS Decision Desk has said they are 99.9999% certain that Obama has indeed won Ohio, and stand by their projection. This seems like the Presidential election in 2000 doesn't it? We'll see.
Victory Girls is going to end our live blogging now before any victory or concession speeches are given. If Barack Obama has been re-elected, we will be angry, upset, fearful, and sad for our country. But tomorrow? We get back to work.
(Visited 6 times, 6 visits today)