I've gotten a few emails from readers who have concerns that "If I stop using Google/Yahoo/Apple software, I won't be able to do ____."  That's not true, and in a VG-exclusive series, we're going to be looking at some of the software out there that does the same job without laying your private life wide open and profiting on it.  I'll be bringing you in-depth reviews on email providers, cloud services, browser setups, and much more.  Everything we'll be talking about are programs and tools that I either currently use or have personally tested, and the reviews will be written for the average user.
Please note that we are not receiving anything from these companies.  They did not ask us to do a review, and they are giving us nothing for doing it.  In fact, we aren't even telling them we're doing it. You can be certain that this series will be completely honest and without bias.
To get started in the series, I've chosen to focus on something we all use a million times a day: email, calendar, and task management.  Lots of details below the jump!
Our featured software today is Kolab.  MyKolab replaces Outlook, with some Sharepoint features as well.  This means it also can replace Gmail/Calendar/Reminders/iCloud.  Here's what the desktop looks like (click to enlarge):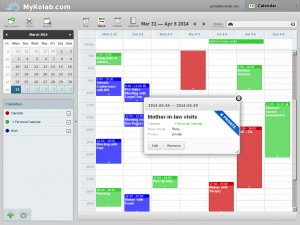 Kolab is open source, which means it's technology is easily tested and analyzed by the community, who take it upon themselves to monitor code and ensure the NSA didn't put a backdoor in it.  (Open source is also highly recommended by security experts such as Bruce Schneier.)  In addition, it's in Switzerland, which is good news for US clients because it means that it will not comply with US law enforcement requests or intelligence programs.  Here's their take on all that:
Switzerland, which is where this service is located, only recently allowed minimal provisions for lawful interception and placed them under strong requirements for warrants and transparency. So any access will always be subject to review and known. Furthermore, secret collusion with the US services as it apparently took place in Germany is highly unlikely in Switzerland because such activities would establish personal, criminal liability of whoever were to know of such a thing and not take appropriate action. Not to mention what would happen to someone who were to approve such collusion.

In other words, Switzerland takes this very seriously: If you find out something like this is going on and do nothing, you go to jail. If you approve such a thing, you go to jail for a long time. So the personal risk for anyone involved in such activities would be very high, making them much less likely than in other countries. So you can be quite certain the information we provide on our privacy page is the complete and full picture.
In fact, you can check out their very plain and open FAQ on privacy here.  They receive an A+ grade from SSL Labs, as well (techie readers may want to take a look at that).  They also received a Class A rating from Terms of Service; Didn't Read, which is a watchdog company that rates the ToS of many companies.  (For some perspective, Google is a Class C, YouTube is a Class D, and Twitpic is a lowly Class E; DuckDuckGo, however, is another Class A!)
Kolab isn't free, but it's not really expensive, either.  Their standard services are about $11 a month ($11.57 at the current exchange rate for Swiss francs), and it's well worth it.  High marks from the tech community round out the package, and all in all, Kolab is worth your time and money to take a look.