The drumbeat from the Democrats has been steady for months now. Trump. Russia. Trump. Impeachment. Trump. Twitter. Trump. Trump. Trump.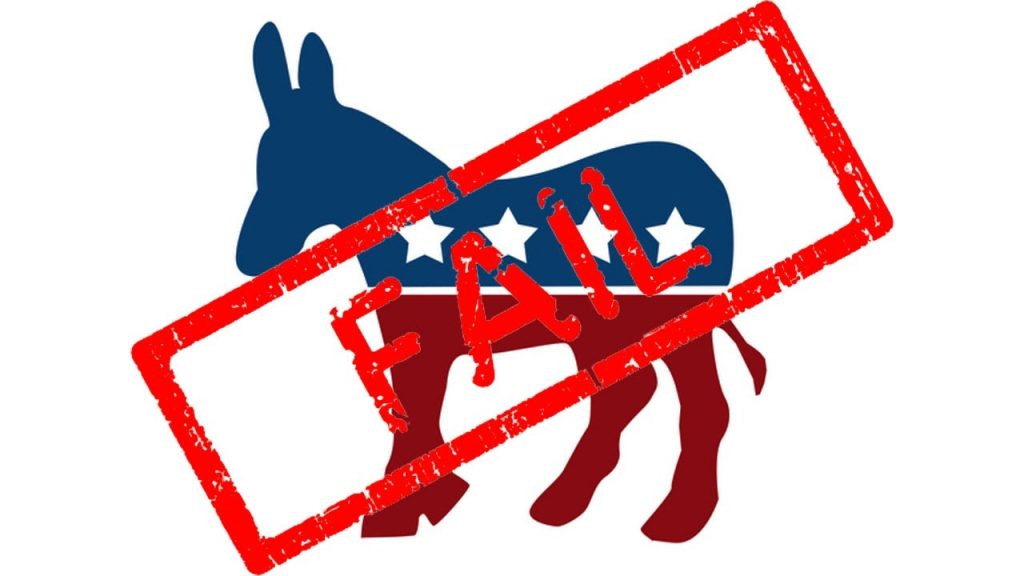 Thanks to a new poll, the Democrats are starting to realize they have some messaging problems.
37% in @ABC News/WaPo poll say Democratic Party "stands for something," while 52% say it just stands against Trump: https://t.co/cuwDNEpOr2 pic.twitter.com/gyH3jQ0CBp

— This Week (@ThisWeekABC) July 16, 2017

Wow.
THIS. If Democrats think overpraising SNL, Samantha Bee, et al, sneering at Trump voters, and being outraged will win–they're wrong. https://t.co/Z733zpJSuB

— Terry Moran (@TerryMoran) July 16, 2017


So, while Trump himself stands at a 36% approval rating…

… more people in the poll think all the Democrats are just anti-Trump than pro-anything else.
Even James Carville is saying that Democrats are unlikely to win back the Senate in 2018.
"I think right now most Democrats are trying to focus on the 2018 elections and trying to recruit people and keep incumbents, and you know I would say we have a pretty good chance of taking the House back. The Senate is very, very difficult," Carville told John Catsimatidis on AM 970 in New York.

"The problem in the Senate is we have a large number of seats we have to hold in states that Donald Trump carried. Indiana, Missouri, you know, places like that we have to hold seats," he continued.

"The only places where we have an opportunity for pick up are, you know, Nevada is pretty good. After that Arizona is less good, then you're down to Texas and Alabama, and for Democrats to win the Senate back, they have to pick up three seats," Carville said.
Even the party chair acknowledges that the Democrats have issues with uniting around a common message.
The soul-searching comes as Democrats look to flip at least 24 GOP-held seats necessary for a House majority and cut into Republican advantages in U.S. statehouses in the 2018 midterm elections. Yet with a Russia scandal engulfing the White House, a historically unpopular health-care plan wrenching Capitol Hill and no major GOP legislative achievement, Democrats are still struggling to tell voters what their party stands for.

Some want to rally behind calls to impeach the Republican president as new evidence indicates possible collusion between Trump's campaign and the Russian government. Democratic leaders are reluctant to pursue that approach as it only energizes the GOP base. Others want Democrats to focus on the GOP's plans to strip health insurance from millions of Americans. And still others say those arguments can be fashioned into a simplified brand.

"The Democratic Party needs to up its game," national Party Chairman Tom Perez said in a speech this week. "What I hear most from people is, 'Tom, we not only need to organize, but we need to articulate clearly what we stand for.'"
To be honest, both parties are suffering from a lack of focus. For better or worse, the last 8 years in American politics were completely focused on Barack Obama. The Democrats supported him and united around furthering his agenda. The Republicans united and stood firmly against that same agenda. With Obama now retired from politics and consigned to the role of former president, the Democrats are rudderless and the Republicans no longer know what to do with themselves. While the GOP is floundering (and not being helped by the man in the White House, who should be focusing on an agenda instead of tweeting), the Democrats thought they would take a page from the GOP's book and go full-out anti-Trump.
What they failed to realize is that the Republicans of Washington D.C. were not against Obama the man, but rather his plans. They opposed Obamacare, not Obama. They opposed his proposals and disagreed with his policies, but in general, the man himself was not the issue. The Democrats have taken up the drumbeat of "Trump, Russia, Trump, Impeachment, Trump" and expected it to be a unifying call. Instead, those who would vote Democrat, and realize that the next presidential election isn't until 2020, are looking at the DNC and Democrat leadership and asking, "So what are YOU going to DO?"
After 8 years of blindly following Obama to the point of idolatry, and no leader rising to take his place, the Democrats are lost. If the GOP can't get their act together, get Trump away from Twitter, and start following through on the promises that were made, this opportunity to take advantage of a distracted and hysterical Democratic Party will be gone in the blink of an eye. Sooner or later, the DNC will hit upon a message that will work and will unify. The GOP can't count on them being divided for long.
(Visited 3 times, 3 visits today)