The threat that North Korea's missile and nuclear buildup poses is very real whether many so-called policy wonks, yes I'm looking at you Ben Rhodes and at you Maxine Waters, want to believe it or not. While people are pointing fingers and shrieking about how dangerous Trump's big ole meanie rhetoric regarding North Korea is, what is China going to do?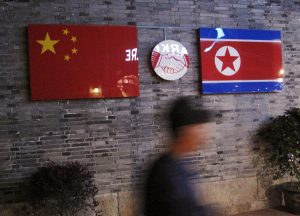 Well, let's see. If North Korea flexes their muscles and we retaliate with an attack? This is the recommendation by a major Chinese newspaper:
"It needs to make clear its stance to all sides and make them understand that when their actions jeopardize China's interests, China will respond with a firm hand," said the paper, which does not represent government policy.

-Snip

"If the U.S. and South Korea carry out strikes and try to overthrow the North Korean regime and change the political pattern of the Korean Peninsula, China will prevent them from doing so."
Of course, you just know the media is focusing on that and saying AH HA!! SEE, I TOLD YOU SO!! But really, China will retaliate against the U.S. for the attack? Why? What or whom are they protecting? Themselves? North Korea? Someone else? Questions that definitely need to be asked.
Even more telling is what China should do if North Korea attacks first. NOTHING. 
"China should also make clear that if North Korea launches missiles that threaten U.S. soil first and the U.S. retaliates, China will stay neutral," it added.
So, if this news report from a government-run publication is correct, that means China will retaliate against the U.S. if we dare protect ourselves from the madman that is Fat Little Kim Jong Un. But if Kim is the one to pull the trigger, China will stand down?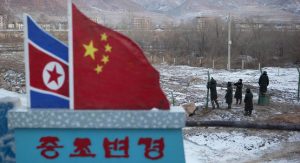 Keep in mind, China took part in the U.N. vote just a few days ago:
China's foreign minister has told his North Korean counterpart that Pyongyang should stop carrying out nuclear and missile tests, hours after fresh sanctions were agreed by the United Nations Security Council.

Wang Yi said he urged Ri Yong-ho to abide by UN resolutions in a meeting on Sunday in the Philippines.
At that time, the U.S. Ambassador to the UN, Nikki Haley, issued a very clear warning to North Korea:
However, now we have China possibly backpedaling, or seething because they are stuck in the middle, or perhaps they are waiting to see if North Korea really will decide to throw missiles at Guam? Or maybe they want to see if President Trump meant what he said?
Paging SecDef Mattis and Secretary of State Tillerson. I'd be looking at China very, very closely right now. What is their short game and what is their long game regarding North Korea? What is China's game, period?
A few other items to keep in mind.
Media missing in all this that North Korea is Iran's weapons lab and has been for decades

— Gray Connolly (@GrayConnolly) August 9, 2017
This is a key point. Any chance of a deal with DPRK goes out the window if Trump cancels a nuclear deal that Iran is complying with. https://t.co/vN98Ml2wPt

— Ben Rhodes (@brhodes) August 10, 2017
The temerity of this guy to even show his face. Obama administration actively suppressed report that NK has nuclear capable ICBMs! https://t.co/kcI3rgEYbs

— TCOT 2014 (@tcot2014) August 10, 2017
The media, and far too many Democrats, want us to forget that both the Clinton and Obama deals with North Korea failed miserably before the ink was dry on the agreements! Just as with the Iran Deal, both NORK deals have only served to INCREASE that regime's military and nuclear capabilities. And no, President Reagan's move in Grenada is NOT the cause of this current mess. This is something else that we should be very concerned about:
How strange is this story? Why would North Korea and Iran need to meet? https://t.co/TEU7zICDbV

— Bauerle and Bellavia (@BauerleBellavia) August 9, 2017
Like it or not, China is a key player in this drama. It is telling and disturbing that they are a little too quiet right now.
(Visited 10 times, 10 visits today)