As part of the continuing effort to erase history instead of learning from it, the city of Charlottesville, Virginia voted to remove a statue of Robert E. Lee from the University of Virginia campus. Which led to a planned protest which was supposedly a peaceful one, but it wasn't.
The turmoil began with a march Friday night and escalated Saturday morning as hundreds of white nationalists gathered. Waving Confederate flags, chanting Nazi-era slogans, wearing helmets and carrying shields, they converged on a statue of Robert E. Lee in the city's Emancipation Park and began chanting phrases like "You will not replace us," and "Jew will not replace us."
All sorts of labels have been flying around. Alt-right, Far-Right, AntiFa, White Supremacist, racist, conservatives, etc. Let's just call them all what they are shall we? THUGS.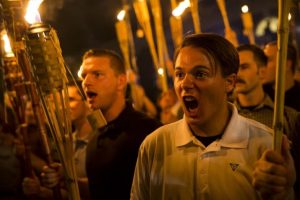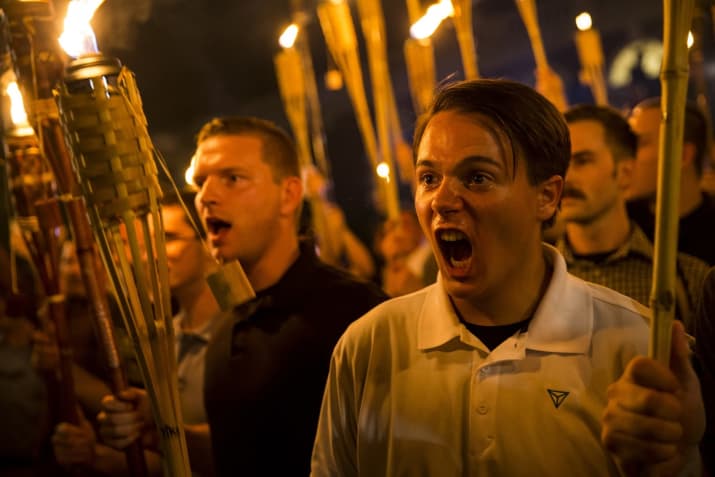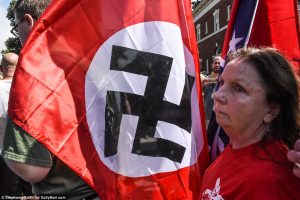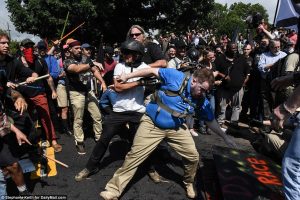 They look so classy don't they? As for their understanding of history … 
Now gathering around statue of Thomas Jefferson. Chanting 'white lives matter!' pic.twitter.com/16cruXn5d8

— Joe Heim (@JoeHeim) August 12, 2017
Shall we remind them of the fact that its BECAUSE of Thomas Jefferson that everyone there has the FREEDOM to scream, yell, and act like the thugs they are?
As things started escalating this morning, the authorities declared a State of Emergency and ordered the crowds to disperse. No sooner had that happened then the news broke of a vehicle ramming through a crowd of protestors and smashing into other vehicles. WARNING: These videos are VERY difficult to watch.
The car plows into anti alt right activists in #charlottesville. Someone posted the video: pic.twitter.com/eQgO2oQOld

— Ragıp Soylu (@ragipsoylu) August 12, 2017
Video of driving through crowd of protesters in #Charlottesville

— Severin Jahn (@severin_jahn) August 12, 2017
From last night until this incident there had already been fights between the various groups which led to people being injured or arrested, or both. It also led to many condemning the violent rhetoric,  and specifically condemning the THUGS who believe we should return to Hilter's Nazi Germany.
https://twitter.com/aletweetsnews/status/896189794778218496?ref_src=twsrc%5Etfw&ref_url=https%3A%2F%2Fwww.buzzfeed.com%2Ffranciswhittaker%2Fhundreds-of-torch-wielding-white-nationalists-marched
What we know so far is that supposedly a protestor THUG threw a rock at a Dodge Charger. The driver flipped a U-Turn and drove into the crowd ON PURPOSE. The driver then backed up and fled.
Virginia State Police spokeswoman Corinne Geller told Fox News that three vehicles had collided and multiple injuries, ranging from life-threatening to minor, had been reported. Geller added that the car seen backing away with a smashed hood in the above video had been located.
People have been hospitalized and one has died because people chose violence instead of reason and dialogue. The driver has been arrested and authorities are asking for witnesses and video of the incident.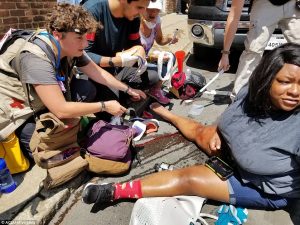 Many have been condemning the protestors and the excrement that they stand for.
Their tiki torches may be fueled by citronella but their ideas are fueled by hate, & have no place in civil society. https://t.co/himqTMBQnH

— Senator Hatch Office (@senorrinhatch) August 12, 2017
The Mayor of Charlottesville issued a statement that you can read in full here.
To the white nationalists descending on Charlottesville: go back to where you came from. Hate has no place in Va. https://t.co/N20CRZ3Fr4

— Mark Warner (@MarkWarner) August 11, 2017
Melania Trump issued this statement on Twitter:
Our country encourages freedom of speech, but let's communicate w/o hate in our hearts. No good comes from violence. #Charlottesville

— Melania Trump (@FLOTUS) August 12, 2017
The Detroit Red Wings logo was used by protestors, at which point the team issued a strong condemnation.
https://twitter.com/Stareagle/status/896404283142414336?ref_src=twsrc%5Etfw&ref_url=http%3A%2F%2Ftwitchy.com%2Fdougp-3137%2F2017%2F08%2F12%2Fnhl-team-board-checks-misuse-of-our-logo-in-this-disturbing-demonstration-in-charlottesville%2F
There are some who are snidely asking why Republicans and Conservatives aren't condemning the vileness of the protestors. They are, we are.
What these THUGS are showing to the world is the excrement filled underbelly of human nature. What they are doing is not to be celebrated. Furthermore, they are the poster children for how erasing history, how NOT teaching history warts and all, comes back around to visit us again.
Who took this photo? Should be nominated for a Pulitzer. A black police officer protecting a group of men who wish him harm. Incredible. pic.twitter.com/bONDFgr9ap

— Yashar Ali (@yashar) August 12, 2017
The best and worst of our Freedom explained right there. Something that none of those THUGS will ever understand.
What happened in Charlottesville today has been brewing ever since Ferguson. At that time we had the media, the government, and an Administration give a pass to the violence all in the name of political correctness. Are they to blame for what happened today? No. The protestors are to blame. However, their inaction and willingness to let that violence slide has led to this. If we ALL don't step up and say ENOUGH, this will continue to happen and our Republic will implode.
(Visited 44 times, 44 visits today)