It was nothing less than a cowardly assassination.
Deputy Darren Goforth, age 47, was shot and killed Friday night. He was pumping gas into his patrol car when he was murdered.
The gunman walked up from behind him and opened fire for no apparent reason, Harris County Sheriff Ron Hickman said.

When Goforth fell to the ground, the gunman stood over him and shot him some more, authorities said. He died at the scene.

"He was literally gunned down in what appears to be an unprovoked, execution-style killing," Hickman said. "I have been in law enforcement for 45 years, I have never seen anything this cold-blooded."
After an intense overnight manhunt, a suspect is in custody.

JUST IN: Photos just released of suspected deputy killer and vehicle in Harris Co. #BREAKING #Houston RT now! pic.twitter.com/DXPv584Gtn

— MyFoxHouston (@MyFoxHouston) August 29, 2015
UPDATE: Person of interest taken in for questioning after deputy killed in shooting http://t.co/e9ffMvCYTY … #HouNews

— KPRC 2 Houston (@KPRC2) August 29, 2015

From local affiliate ABC13:
At about 2:30am, authorities converged on a home on Crystal Lake in Copperfield, led there by a tip. The focus of the investigation is on the red pickup truck in the home's driveway. The person of interest was taken into custody at what's said to be his mother's house. His identity has not been released.

The man's mother — who didn't want to show her face or give her name — told Eyewitness News her son didn't commit any crime. She said, "My son is innocent. I was in the house with him, so when that happened, my son was home."
All that aside, Breitbart Texas is reporting that a radio show may bear blame for inciting the shooting.
The execution of the deputy came just days after black radicals went on an internet radio show hosted from Texas and called for the lynching of white people and the killing of cops to "turn the tide" against blacks being killed by cops. Breitbart Texas reported on Friday morning the details of the radio show and the comments that were made.

One black man spoke up saying they needed to kill "cops that are killing us. The other black male on the show said, "That will be the best method right there."
So, what was said exactly?
A 2:39 minute clip from the radio show can be heard here. It was provided to Breitbart Texas by someone who would like to be referred to as "Hannibal." He has already received death threats as a result of interrupting #FYF911 conference calls.

An unidentified black man said "when those mother f**kers are by themselves, that's when when we should start f***ing them up. Like they do us, when a bunch of them ni**ers takin' one of us out, that's how we should roll up." He said, "Cause we already roll up in gangs anyway. There should be six or seven black mother f**ckers, see that white person, and then lynch their ass. Let's turn the tables."

They conspired that if "cops started losing people," then "there will be a state of emergency."

He speculated that one of two things would happen, "a big-ass [R's?????] war," or "ni**ers, they are going to start backin' up."

"We are already getting killed out here so what the f**k we got to lose?"

Sunshine could be heard saying, "Yep, that's true. That's so f**king true."

He said, "We need to turn the tables on them. Our kids are getting shot out here. Somebody needs to become a sacrifice on their side.
"Sunshine" is the name of the radio host. Her Twitter page is now protected. But here is a screenshot of what she was tweeting out to promote her show.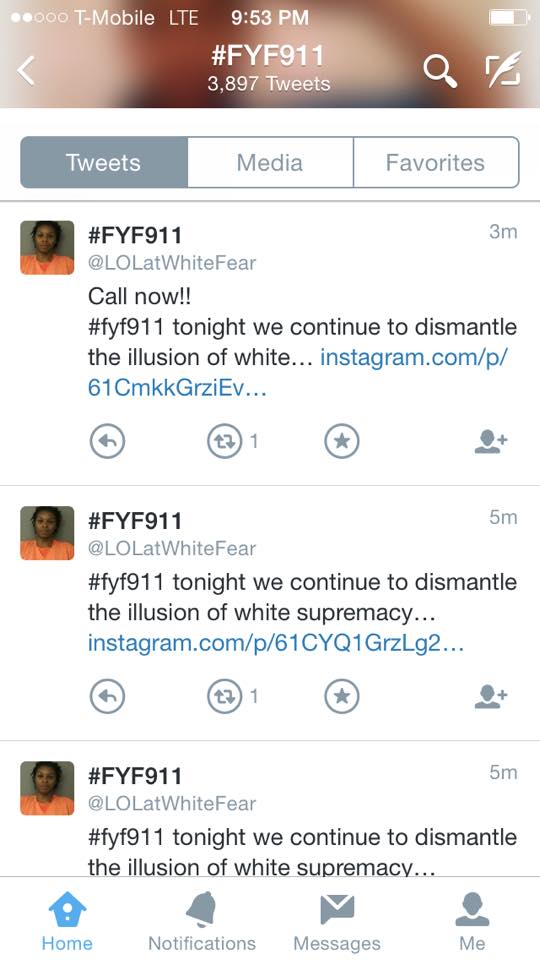 Now, unless the killer claims that the show incited him, we will never know if "Sunshine" and her radio show directly caused the murder of Deputy Goforth. The fact that she's locked down her Twitter feed says that she doesn't want to be tied to it, blamed for it, or even discuss it. But this is the natural, inevitable result of her rhetoric. If you incite violence, or allow it to be spread, eventually someone acts on it.
Deputy Goforth was targeted because he wore a uniform. He leaves behind a wife and two children. Pray for them.