Ohhh, the Democrats are so not happy right now.
First, the announcement earlier today that the FBI is reopening the Hillary email investigation.
The Democrats are mad. The Clinton campaign is mad.
Statement from @johnpodesta in response to Comey letter to GOP chairmen pic.twitter.com/egyUMl68ZC

— Brian Fallon (@brianefallon) October 28, 2016

But this gets better.
Remember how FBI Director Comey said that the new emails came from an "unrelated case" to the original investigation? Drumroll please….
The emails were found thanks to this guy and his estranged wife: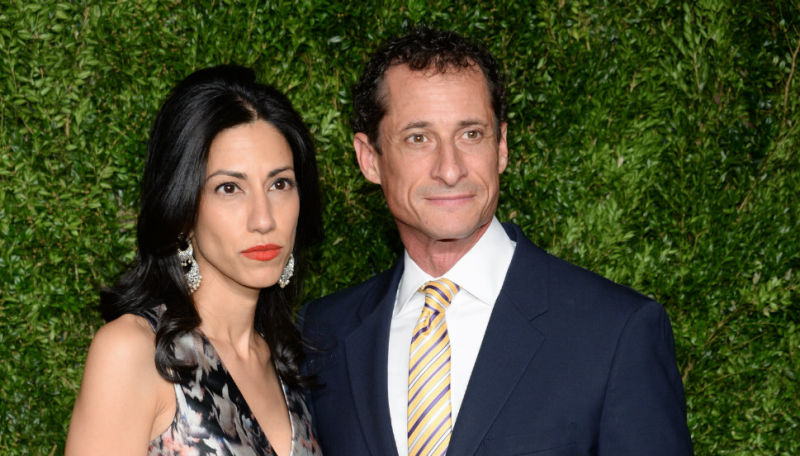 Yes, the new Hillary emails were found thanks to Anthony Weiner's latest sexting scandal.
New emails tied to the FBI's Clinton inquiry were discovered during the investigation into Anthony Weiner's sexting https://t.co/FMHEkn03B0

— The New York Times (@nytimes) October 28, 2016
Federal law enforcement officials said Friday that the new emails uncovered in the closed investigation into Hillary Clinton's use of a private email server were discovered after the F.B.I. seized electronic devices belonging to Huma Abedin, a top aide to Mrs. Clinton, and her husband, Anthony D. Weiner.

The F.B.I. is investigating illicit text messages that Mr. Weiner sent to a 15-year-old girl in North Carolina. The bureau told Congress on Friday that it had uncovered new emails related to the Clinton case — one federal official said they numbered in the thousands — potentially reigniting an issue that has weighed on the presidential campaign and offering a lifeline to Donald J. Trump less than two weeks before the election.

The news that Weiner is responsible for the email discovery… well…
#Schlonged! https://t.co/etBJE5IPYQ

— Brad Thor (@BradThor) October 28, 2016
Can't make it up, folks! https://t.co/XqONc0XU4z

— Jeff B/DDHQ (@EsotericCD) October 28, 2016
Weiner is going to bring down the entire Clinton campaign. 2016 is amazing. https://t.co/MVK8Rnjg4P

— Stephen Gutowski (@StephenGutowski) October 28, 2016

Can this election get any more insane than it already has? I'm actually afraid to even write that rhetorical question.
(Visited 5 times, 5 visits today)