Today, Anthony Weiner stood in front of a judge in a Manhattan courtroom and pleaded guilty to a single count of "transferring obscene material to a minor."
And being Anthony Weiner, he cried about it.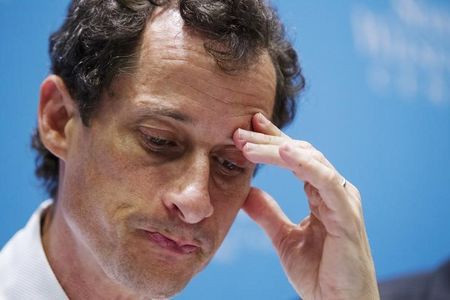 Disgraced ex-congressman and serial sexter Anthony Weiner sobbed Friday morning as he admitted to exchanging X-rated messages with a 15-year-old girl.
"I have a sickness but I do not have an excuse," Weiner told Manhattan federal Judge Loretta Preska.

Weiner, 52, said he hit "bottom" last fall before entering into outpatient therapy for sex addiction.

Weiner pleaded guilty to a single count of transferring obscene material to a minor as part of a plea agreement with the US Attorney's Office in Manhattan. He must register as a sex offender.

He also agreed to forfeit his iPhone as part of the deal.


Guess who was not in the courtroom to see all of this? Weiner's wife Huma Abedin. Supposedly, they are trying to save their marriage. Remember, she announced their separation during the election season when this latest sexting scandal broke. Then the news came out that in the middle of that investigation, classified emails were found on Weiner's computer, forwarded to him by Huma Abedin. After the election was over and Hillary lost – something which Democrats could reasonably pin the blame for on Huma and Weiner – Huma miraculously finds it in her heart to take him back.
It's a testament to their love, or it's a testament to the benefits of spousal privilege under the law. You make the call.
Weiner will be sentenced on September 8th. He could have faced up to 10 years in prison if convicted, but prosecutors are asking for 21-27 months in exchange for his guilty plea, which will also require him to register as a sex offender. I'm sure his son will just love it when dad can't come to his school, or when he can't have friends over because dad is there.
In fact, the only person to feel sympathy for is young Jordan Weiner. All the adults involved have made their choices. It's sad that a five year old boy has to live with the consequences.
UPDATE 2:56 PM EDT:
Well, it looks like there was a reason Huma Abedin wasn't in the courtroom. She was in another courtroom… filing for divorce.
JUST IN: Huma Abedin slaps Anthony Weiner with divorce papers hours after disgraced pol's underage-sexting plea https://t.co/yihFjp56va pic.twitter.com/t1M4J0yFuM

— New York Daily News (@NYDailyNews) May 19, 2017

The prevailing sentiment? FINALLY.
@vicbekiempis About time

— trudy ferrer (@trudyferrer) May 19, 2017

Indeed.
(Visited 4 times, 4 visits today)